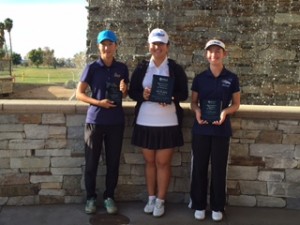 Anna Dong, won the Bridgestone Fall Tournament of Champion's at CC of Soboba Springs. Anna lead the two day event from the beginning by shooting 75-78 (153) to win by 4 shots over Hailey Borja who scored 82-75 (157).
Anna was second in Most Pars with 22. She was tied for first in Most Pars or Better with 25. Anna was tied for first in Bogey Free Streak with 9 and she ranked 4th in Par 3 Leaderboard at 3.2. Anna was first in Par 4 Leaderboard with an average of 4.3, and was tied for 4th in the Par 5 Leaderboard with a stroke average of 5.0.
Mylan Hirata, finished in 14th place with a two day score of 85-83 (168). Mylan lead the field with the Most Par Breakers with 5. Mylan is gaining experience and improving her skill set and this is evidenced by her performance against more experienced players.
Reina Tain, finished in a tie for 5th in the Girls 12-13 Division. Reina shot 86-76 (162). Her coach, George Pinnell, contacted Reina via a text after the first round to discuss the cause's of her 86. Reina, who is working hard to "own" her swing, realized that she was getting to "shallow" in her downswing causing her to hook or push her shot's. She told Pinnell, "I will fix this before the final round." Reina 2nd day score was 10 stroke's better than her opening round! Reina tied for first in Birdie or Better Streak.
Derek Kim, Irvine, CA., finished in a tie for 8th place in the Boys 15-18 with a two day score of 77-78 (155). Derek had an eagle and two birdies in the 36 hole event. Too many mistakes lead to to 11 bogey's and 2 double bogeys.