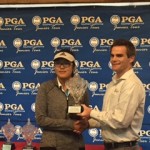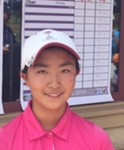 15 year old Crystal Wang, Diamond Bar, CA., won the season ending Toyota Tour Cup Championship at Sandpiper Golf Club.  Crystal shot 79-78 (157) to win the event by a shot over Alexa Melton.  The event was played in cold, rain and windy condition's that tested the players ability to get the right club for the required yardage.  Crystal told her coach, George Pinnell, "the wind was blowing so hard it was really difficult to gage the speed on the difficult Sandpiper green's.  Once you got the ball started on line, the wind would increase the ball's speed and made putting a nightmare.  I had to be really careful with my approach shot's because the wind would have a tremendous effect on the ball flight if I did not get a good face angle at impact."
Crystal, who played a major role in Diamond Bar HS, winning of the California CIF State Championship, has been eager to win a Toyota Tour Cup Championship or an AJGA event.  "She can cross off at least one of those wishes from her "bucket list," Pinnell said.
Crystal ranked second in Most Pars (21).  She was first in Most Pars or Better with 24, was 2nd in the Par 4 Leaderboard and finished T3 in the Par 5 Leaderboard.  A good season ending win for a youngster who work's hard to be the best that she can be.
Phenom, Rose Zhang, the number one ranked 12 year old in the United States, finished in a tie for 4th place with a score of 80-81 (161).  Rose birdied the 36th and final hole to move up into her tie for 4th place finish.  Rose finished tied for 1st in stat's for the Par 3 Leaderboard with a stroke average of 3.1!
Rose told Pinnell, "The wind was like CRAZY.  Every time you had a downwind putt, the ball would pick up speed and a 5 footer would be 10 to 15 footer, coming back.  The wind was blowing so hard it was really hard to maintain balance while hitting shot's or putting."  According to Pinnell, Rose had been sick the previous week and was not feeling very well in the 36 hole championship.
in 2015, Rose has had  9 top 8's (6 top 5 finish's)  in 13 Toyota Tour Cup Championship's.  Rose has had a terrific year competing against older girls who out drive her by 30-40 yard's and who are up to 5 year's older than Rose.  Rose is currently in third place for Toyota Tour Player of the Year!  A nice year for the 12 year old from Irvine, CA.
Christian Lingamen shot 85-81 (166) to finish in a tie for 41st place in the Boys Toyota Tour Cup while Derek Kim finished tied for 46th with a pair of 84's (168).
The winning score for the boys was a rather high score of (148).  The cold, windy, rainy condition's made the championship a "survival test" according to most pla
Congratulation's to Crystal and Rose for their good play in adverse condition's and to all player's who were trying to be the best they can be.