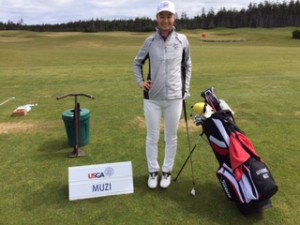 Katherine "The Kat" Muzi was named last week to the 2015 All Southern California Team. The award will be presented to Katherine by the SCPGA Junior Tour at the 2015 Banquet of Champions at Mesa Verde CC, Costa Mesa, CA., on January 16, 2016. The All Southern California Team Award is comprised of the six girls and top six boys within the Southern California region based on their play on the national stage.
This is one of the highest honors a player can achieve and the SCPGA Junior Tour has recognized many worthy golfers in previous years including Rickie Fowler, Tiger Woods, Lizette Salas. Alison Lee, and Jason Gore.
Katherine 2015 record was quite impressive for a 15 year old sophomore. She had two, USGA appearance's and made the cut in both events, three second place finishes on the AJGA Tour, she made the cut at the Polo Junior and had two seconds on the SCPGA Toyota Tour Cup and four top ten's. Kat's National ranking is 51.
Katherine feel's honored to have been selected to the All Southern California Team and is proud to join those great player's that have preceded her in this prestigious award.