12 year old, phenom, Rose Zhang, won the Toyota Tour Cup @ Industry Hills, with a solid pair of 72's, in the 36 hole event.  The event was played on the difficult Eisenhower (Ike) course.  Rose won by 3 shot's over Ashley Park of Mission Viejo, CA.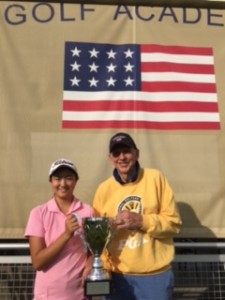 In the opening round, Rose shot -1 on the front side, with a bogey and 2 birdies.  She shot +1 on the back side with 2 bogies and a lone birdie on the 18th hole.  Rose was 2 shot's behind L. Potter, Boulder City, NV, who shot -2 under par on the opening day but shot 81 in her final round, to finish in a tie for 5th.
In the second round Rose shot +2 over 38 on the front, but burned the back side of the Ike with a solid -2, 34, to secure her first Toyota Tour Victory.
Rose has a history with TTC experience.  She qualified when she was 11 and in 2015, she played in 13 event's.  She had 9 top 10 finish's and finished in third place for Player of the Year!  Rose was the youngest player on the tour in 2015.
Anna Dong, finished in a tie for 31 with 81-80 (161).
In the Boys Toyota Tour Cup, Ryan Hong, Rancho Cucamonga, shot 85-84 (169) to fiish in a tie for 63rd place.