February 29, 2016
David Sun, Irvine, CA, missed qualifying for the Toyota Tour Cup La Costa by a single shot.  David shot 75 with 3 birdies and 6 bogies on the Los Serranos Golf Club.  David was happy with his performance in the qualifying round because of the recent swing change's he has made with his new coach, George Pinnell.  Pinnell has been working with David to get his club more on plane and to better understand where his club face is in the impact area.
Brooke Li finished in a tie for 15th place with a 77.  Brooke got to a slow start with a double bogey on the par 3 second hole but came back with a birdie on number 4.  Bogies on 7 and 9 gave him a +3, 39 on his front side.  Brooke made 3 bogies and a birdie in the inward nine for a +2, 38 and a final 18 hole score of 77.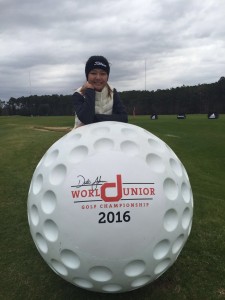 In the Girls Qualifier, Michelle Xu, Chino Hills, shot 78 and finished a shot out of a playoff to get into the La Costa event.  Michelle who has been improving her game throughout the winter, made 3 birdies but made a double bogey on seven and another on sixteen to keep her from qualifying.  The five bogies and 2 doubles were disappointing for the sophomore who has been working to eliminate mistakes in her tournament play.
Keisha Lugito, Walnut, CA, shot 79 and missed qualifying by 2 shot's.  This was Keisha's first event in 2016.  She enlisted the service's of George Pinnell, in January to rebuild her swing and so that she would have more confidence in her ability to control her ball flight.  Going through that process, she also found that she was not getting the best ball flight out of her equipment.  Pinnell, through the use of TrackMan was able to demonstrate that Keisha could gain 15 yard's and get a higher trajectory by making a change in her equipment.  Overall, Keisha's team is happy with her progress and look's forward to the season.
Catherine Yu was derailed by double bogies on 3 and 13 to finish in a tie for 11th place with an 81.  Catherine was still recovering from an ill advised run in last week's Los Angeles Marathon, a grueling 26.2 mile
run.  It is doubtful that Catherine will test herself in the 2017 LA Marathon.  Her coach was shocked that Catherine would undertake the marathon without any training, but was complimentary to her for having the courage to even run and FINISH the 26.2 mile event.
In the David L Baker Spring Classic event, Kevin (Hoss) Chen, shot 36 and finished 9th in the event.  Kevin played well until the 9th and final hole, where he made a triple bogey that prevented him from tying for 4th place.
Brooke Li, Irvine, CA, finished in a tie for 6th at the General Old event in Riverside, CA.  Brooke had 2 birdies but a double and 8 bogies kept him from having a shot at challenging for the win in the Boys 12-14 Division.
Ben Lee, Rancho Cucamonga, CA, finished in 11th place in the Boys 15-18 Division.  The long hitting freshman, shot 83.  A double and triple bogey along with 7 bogies prevented Ben from placing higher.  He has been working to minimize mistakes and control his ball flight by trying not to "hit" the ball as hard as he can.
Gabby Kano finished 4th at the Willowick Spring Classic with a 45 in the Girls 9-11 Division.  Mistakes with a "Snowman" (8) on 1 and a double on 2 along with a double in number 5, set the tone for her 45.
Reina Tain, Torrance, CA, shot 82 in the Girls 12-14 Division and placed 6th in the field.  Reina's 2 birdies were not enough to off sett her 3 double's and 7 bogies.
Ben Lee, shot 76 and finished in a tie for 6th place in the Boys 15-18 Division.  Ben cut his mistake's to 6 bogies and then made a birdie to complete his round.
Congratulations to all of the many youngster's who are competing weekly on the SCPGA Junior Tour and the Toyota Tour Cup.  It would appear that a general theme to improve their play would be to get better control of their golf ball by making fewer mistake's and managing the course better.  A challenge we give to them in their instruction and coaching classes.