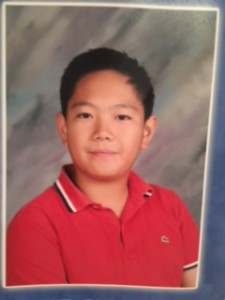 David Sun, Irvine, CA., birdied the 36th and final hole to get into a playoff at the Bridgestone @ Empire Lakes Golf Club in Rancho Cucamonga, CA. David shot 75-77 (152) to tie for first place in the Boys 12-14 Division. 2 double bogies, one on the 3rd hole and another on the par 5, 11th hole, derailed his quest to win outright. According to his coach, George Pinnell, David has made progress in "retooling" his swing to get the club more on plane an produce a more reliable ball flight. He went on to say, "we need to cut back on mistake's, especially on the par five hole's. It is a huge mistake to bogey or double bogey the easiest hole's a player will play. I am sure David will learn from this experience."
Brooke Li, Irvine, CA., finished in 4th place, 2 shot's out of a tie for first place, with a 78-76 (154). Brooke was in position to win the event when he birdied the 15th hole. Unfortunately, he double bogied 16 and made a bogey on 17. The poor finish, erased his chance to
win. Learning to "finish" a round is super important for a junior player, and Pinnell said, "Brooke will use this experience to "grind" it out and stay focused until the last putt is dropped."
Ben Lee, Rancho Cucamonga, CA., shot 79-74 (153) and finished in 7th place in the Boys 15-18 Division. Ben had a double bogey 6 and an 8 on the par 5, fifth hole in the first round that contributed to his 79. 3 birdies in the second round helped Ben rebound with a 74. Course management and cutting back on mistakes, is the key for improvement for this talented young player.
Michelle Xu, Chino Hills, CA., shot 80-76 (156) to finish in a tie for 4th place in the Girls 15-18 Division. Again, double bogies were the reason for Michelle's score of 80 in the first round. She was +1 over par through 9 hole's when she stumbled with her first double on 10. She failed to "finish" her round when the doubled bogied 17 and 18. Michelle, rebounded in the second round with a 76.
Catherine "Tianhong" Yu, Chino Hills, CA., got off to a great start with a solid -2, 70. Catherine had 5 birdies, a bogey and a double bogey for her round of 70. Unfortunately, her second round score of 89 dropped her into 8th place in the Girls 15-18 Division. A double bogey, and 2 triple bogies, were part of her difficult second round. Again, "finishing" a round or tournament is a key element in improving performance at the junior level.
In the Diamond Bar Spring Classic, Isabelle "Bella" Yang and Via Lan shot 49 in the Girls 9-11 Division to finish in a tie for 6th place. In the Boys 9-11 Division, Kevin "Hoss" Chen, shot a 46 and tied for 11th place. Kevin is rebuilding his swing with his new coach, George Pinnell. The pair are working to get Kevin's club more "on plane" to get less "spin axis" on his ball flight.
Katherine "The Kat" Muzi, finished in a tie for 4th place with an 80 in the Lakewood Spring Classic in Lakewood, CA. Kat was not pleased with her double bogey, double bogey, bogey start. Kat also bogied the par 5, sixth and the par 5, eighteenth hole's. Kat three putted 3 time's in her round and couldn't rebound after her slow start in the first 3 holes. Kat will be playing in a few more event's to get "tournament tough" before going into the AJGA and USGA season.
Keisha Lugito, Walnut, CA., shot 82 and finished in a tie for 9th place. Keisha and her new coach, George Pinnell, are rebuilding her golf swing and preparing her for the summer season. The 11th grader from Walnut High School has a "super quality golf swing" according to Pinnell. He went on to say, that "Keisha just need's to clean up her short game and putting."
Kevin "Hoss" Chen shot 46 and finished tied for 6th place in the Boys 9-11 Division at Lakewood.