March 28, 2016
17 year old Keisha Lugito, Walnut, CA, tied for fifth place in the National Tour San Diego Challenge Benefiting the San Diego Junior Golf Association. The Future Champions Tour event was contested at Riverwalk Golf Club and was sponsored by Callaway Golf, SKLZ & Epson.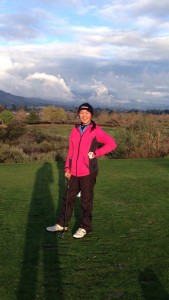 Keisha posted 77-80 (157) to tie for 5th place. Jessica Harden, Westlake Village, CA, won the event with score's of 76-78 (154).
In the first round, Keisha shot 40 on her opening nine hole's before making her first birdie on the 10th hole. Unfortuanately, she made bogey, double bogey, bogey on 11, 12 and 13. Keisha, went -2 under par on her finishing hole's, 14-18 to post 77. After the first round she was in a tie for 2nd place.
The second round started with 2 par's before a bogey, double bogey, par, bogey, bogey run that ended with a par on 8 and a birdie on 9 for an opening 40. Keisha got off to a bad start on her "in" nine with bogies on 10,11, a double on 12 and a bogey on 13. Like the first round, she finished strong by going par, par, bogey, birdie, birdie for a -1 under par on 14-18, for another 40. Without the 2 double's in the second round, Keisha would have won the event.
Keisha told her coach, George Pinnell, that she had problem's with getting the correct speed on the green's, but that she was fairly happy with her ball striking. The young junior from Walnut High School is "retooling" her swing with Pinnell and is working hard to attract the attention of college golf program's. Pinnell, interjected, "that Keisha has a world of talent, and can strike the ball as well as anyone. She is long wither her iron's and driver, but need's to improve on her short game and putting so that she can take advantage of her ball striking ability. Basically, she need's to learn how to score." He went on to say, "Keisha's golf swing is compact, with no 'slack' and that type of swing will produce good ball flight."
In AJGA action in Houston, Texas, Crystal Wang, tied for 12th place in the Bishops Gate Golf Academy at Horseshoe Bay Resort. Crystal shot 78-78-76 (232). Crystal got off to a good start with even par on her opening 9 holes. She had 2 birdies and a pair of bogies. she opened the back 9 with a birdie, but a 10 on the par 5, 11th hole cost her dearly. She rebounded with another birdie on 12, but made bogey on 13. She finished her back side with a 42 and a 78 total. "The 78 was a good score, when you have a ten and 5 bogies on your card," said Crystal's coach, George Pinnell.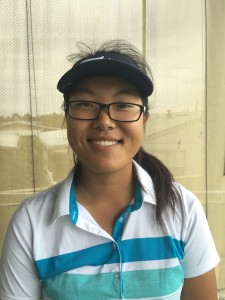 Crystal started her 2nd round on the 10th hole and shot 38. She made the turn and played 1 over par on her finishing 9 hole's until she made bogey on her final hole to post 76. The ten in the first round prevented the sophomore from a top 10 finish. "Overall, Crystal had a good "run" and gained valuable experience in Texas," Pinnell, said.
Kat Muzi, had a tough outing in Mesa, AZ, where she played in the Winn Grips Heather Farr Classic. Kat shot 83-76 (159) to miss the cut for the final round. The AJGA event was hosted at Longbow Golf Club. Kat will be playing today in the Ana Junior event at Mission Hills CC in Rancho Mirage, CA. The winner will land a spot in this week's Ana Inspiration LPGA tour event. Each player invited to the event will play with an LPGA Hall of Fame player.
In local action on the SCPGA Jr Tour, Brooke Li, tied for 3rd place in the Willowick Spring Classic with a solid score of 75 in the Boys 12-14 Division. Ben Lee, shot 74 and tied for 4th place in the Boys 15-18 Division.
Via Lan, the talented third grader, finished in 6th place in the Girls 9-11 Division. Via told her coach, she had difficulty with her bunker play causing her to lose several strokes unnecessarily.
Congratulation's to all of the junior player's who are working hard to be the best that they can be!
Be sure to watch the four, one hour, series about "Arnie". It is must see tv, for any young junior player. It is the story of Arnold Palmer.