Keisha Lugito, a junior at Walnut High School, Walnut, CA, won the Future Champions National Tour Event at San Clemente, CA.  Keisha, shot 79-77 (156) to win by a shot over Lauren Labow, Huntington Beach, CA.  Keisha had a difficult start with 4 bogies on the first 6 holes.  Her best play in the first round was on 7 thru 15 where she was -1 under par.  She was unable to "finish" the round when she made bogies on 16, 17 and 18.  A difficult way to end the first round.  Par on the San Clemente Golf Course is 37-36 (73).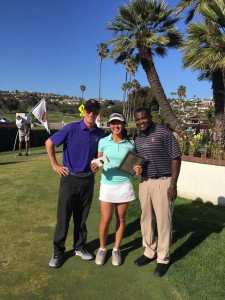 In the second round, Keisha got off to a good start with being even par on the front nine.  She had a bogey on 6 but made a birdie on 8 to post the even par 37.  The tide turned and she made bogies on 10, 11 and 12 before making par on 13 thru 15.  Keisha "finished" stronger on her second round by going +1 on 13 thru 18 for her 77.
Keisha and her coach, George Pinnell, were encouraged by her eliminating any "big" number's that would balloon her score.  Keisha is anxious to continue working and learning more on improving her short game play to lower her score's and eliminate more mistakes.
Sihao "Thor" Cong, won the Boys 9-11 Division at the Heartwell Spring Classic, Long Beach, CA, with a 9 hole score of 27 (even).  Thor made a bogey on 2 and won a card-off with a birdie on the 9th hole over T. Thompson and D. Roman.  Umbert "Umbie" Caseres shot 60 (+6), to finish in a tie for 11th place in the Boys 12-14 Division.
Via Lan, tied for 3rd place in the Girls 9-11 Division with a +5, 32, while Gabby Kano, finished in 10th place with a +7, 34 .
In the Bridgestone 2-Day @ Los Serranos, Michelle Xu, shot 79-85 (164) to tie for 7th place in the Girls 15-18.  Michelle is working hard to lower her score because she seem's to be stuck on score's of 80 or just a little higher.  Brooke Li tied for 6th place with a 77-81 (158), in the Boys 12-14 Division.  Ben Lee, finished in a tie for 18th in the Boys 15-18 Division with a two day score of 153 (79-74).
Sihao "Thor" Cong, was not pleased with his play in the Boys 9-11 Division at Jurupa Hills.  Thor shot 39 on the par 35 golf course.  He said it was windy, but that should not be a reason to shoot 4 over par.  His Coach, George Pinnell, said, "I like his spunk and his ability to look within himself, rather than blame the element's."
Congratulation's to the winner's and all of those who are striving to be the best they can be!