12 year old, Rose Zhang, shot 80-73 (153), her 73 was the low round of the day, as she charged into 3rd place at the Toyota Tour Cup event at Cross Creek Golf Club. Rose's, opening round was a disappointing 80 (+9) and left her in 8th place. Rose said "it was so windy that on one hole, I had 119 yard's and I used my 150 yard club AND still hit it short! The second day was still windy but not as bad."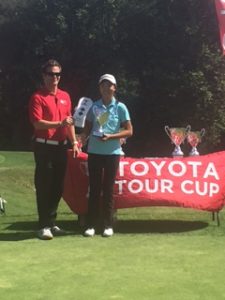 Rose's third place finish, give's her a win and a third in two event's this year. Last year, Rose had ten top ten's in thirteen outing's on the Toyota Tour. Earlier this season, she won the TTC event at Industry Hill's. Rose won an AJGA event (first she has played in) earlier this year and is currently the number one ranked 12 year old in the United States and is ranked 135, age 12-18.
Anna Dong, shot 77-78 (155) to finish fourth. Anna, had a solid event and was happy with her play under the difficult condition's. Ki "Coco" Yang, finished in a tie fir thirteenth with an 84-80 (164).
In the Boys Toyota Tour division, Ryan Hong shot 73-78 (151) to finish in a tie for thirteenth place, a good showing for Ryan. Christian Lingamen shot 79-76 (155) for a tie for 22nd while Matt Hou, shot 80-78 (156) to wind up in a tie for 28.
In SCPGA action, Gabby Kano came through with a victory at the Diamond Bar Spring Classic. Gabby shot 40 in the Girls 9-11 Division. Via Lan finished in a tie for seventh with a 49. In the Boys 9-11 Division, Sihao "Thor" Cong, shot 42 and finished in 9th place. Brooke Li, shot 75 and finished tied for 3rd in the Boys 12-14 Division while Warren Oetojo shot 81 and finished in a tie for 11th. Ben Lee, shot 80 and finished 6th in the Boys 15-18 Division.
At El Prado, Ben Lee shot a 79 and secured a tie for 6th, while Sihao "Thor" Cong won the Boys 9-11 Division, with a 36. Michelle Xu finished in a tie for tenth with an 87 in the Girls 15-18 Division.
At the Dad Miller Golf Pride, Brooke Li, shot 78 and tied for 7th place in the Boys 12-14 Division while Umbert "Umbie" Caseres shot 87 and finished tied for 23rd.
David Sun, struggled with a 82 to finish in a tie for 33rd at the TTC Morongo Qualifier @ Los Seranos. In the Girls Qualifier, Michelle Xu, shot 82 and finished in 6th place.
Congratulation's to all of the GPGA player's who had a good weekend!