Twelve year old, Rose Zhang, continued her strong play over the weekend with a strong showing at the AJGA ClubCorp Desert Junior. The ClubCorp Junior is only the second AJGA event that Rose has played in. She won the AJGA Preview at River Ridge in Oxnard, CA in early April by 4 shot's.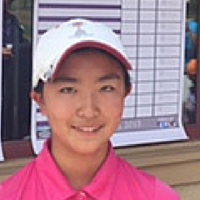 Rose shot 73-73 (146) to finish in 6th place in a bunched up field with Eun Jeong Seong and Karah Sanford tied at first at 142. Brooke Seay was 3rd at 144, followed by Elizabeth Wang's and Kayla Sam at 145 for a tie for 4th place.
Rose told her coach, George Pinnell, "I tried hard today. It just wasn't my day today. I did not hit as many green's as I usually do and I found about 7 bunker's today. My chipping and putting performance was very pleasing. If not for my short game, I might have shot "10" over today."
In SCPGA action over the weekend, Ben Lee finished tied for 6th at the General Old Spring #2 event in Riverside, Ca. Ben shot 77 in the Boys 15-18 Division. In the Boys 12-14 Division, Brooke Li continued his good play with a 73 and a second place finish while Sihao "Thor" Cong shot 37 with 8 pars and a lone bogey in the Boys 9-11 Division. Kevin Chen shot 48 and placed thirteenth.
Gabby Kano shot 48 and placed tied for fourth in the Girls 9-11 Division.
At the Toyota Tour Cup Twin Oaks Qualifier at Skylinks, Michelle Xu shot 79 and finished tied for 7th. Michelle finished strong on her back nine by scoring 38. In the Boys Qualifier, David Sun shot an 80 and finished tied for 22nd place.