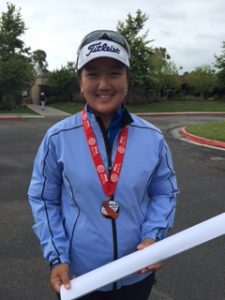 Anna Dong, shot 70-76 to finish in a tie for 3rd place in the Toyota Tour Cup at the Golf Club of La Quinta.  Anna had a warm putter in the first round.  She had 4 birdies and 2 bogies to for her -2 under par opening round.  She started slow in the 2nd round with bogies on 4 and 5 and then made a double bogey on 6 and another bogey on 8.  Anna shot -1 under par on 9 thru 18 to post a 76. 
 12 year old, Rose Zhang, continued her outstanding junior career with a 6th place finish at La Quinta.  Rose shot 74-73 (147) and missed a tie for 4th one shot.  Rose opened the event with a 74 that consisted of 16 par's and 2 bogie's.  The junior player from Irvine, CA, hit many green's but her approach shot's left her, uncharacteristically, long putt's for birdie.  Therefore she had a lot of 2 putt green's. 
In the 2nd and final day, Rose shot 73 and had 3 birdies, but had 4 bogies to offset the birdies.  The remaining 11 holes were par's.
Ke Coco Yang, shot 82 in her opening round and rebounded with a solid 74 in the 2nd and final round of the championship.
In the Boys Division, Matt Huo tied for 43 with round's of 78-75 (153).
11 year old, Nicole Ho, won the JDT @ Pico Rivera, with a +5, 34.  Nicole was disappointed with her getting a 2 shot penalty because she hit from the wrong tee.  Michelle Ho (Nicole's sister) finished in a tie for 8th with a +14 in the JDT Girls 11 and under.
Brian Ho (Nicole and Michelle's brother), shot 38 to tie for 6th place in the JDT Boys 11 & under.
Congratulation's to all of the junior's who are working hard to elevate their game to next level.