Crystal Wang, a sophomore at Diamond Bar High School shot 72-78 (150) to finish in a tie for 12th place in the Golfweek West Coast Junior Invitational, played at Mesa Country Club in Mesa, AZ.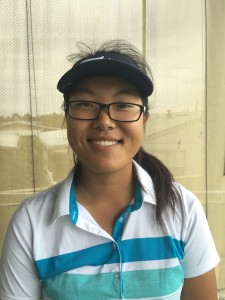 Crystal, was in second place after the first round 72.  She said she saved many par's with a good short game in the opening round.  Crystal was not happy with her second round performance, however.  She told her coach, George Pinnell, that "I had trouble controlling my driver and I hit only 7 green's in the final round."
Keisha Lugito, Walnut, CA, had a disasterous opening round with a 90.  Keisha, showing resolve, came back with a 79 in the final round and improved her score by 11 shots.  A credit to her hard work in retooling her golf swing.
The event was won by Angelina Kim's 71-68 (139)