Michelle Xu, 15, from Chino Hills, CA, shot 77-79 (156) to finish in a tie for 6th place at the Spring Bridgestone sponsored by the Southern California PGA Junior Tour.  The event was contested at Oak Valley Golf Club, Beaumont, CA.  Michelle, compete's in the Girls 15-18 Division.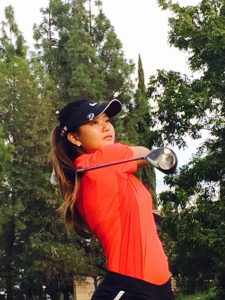 Reina Tain, competing in the Girls 12-14 Division, shot a pair of 80's (160) to finish in 11th place.  Michelle and Reina, are both working hard to eliminate the unforced mistake's in their game that results in double bogies or worse. Michelle, had two double's in the first round but had 3 birdies on the backnine to shoot an even par 36.  In her second round, Michelle had a hard time "finishing" because of bogies on 13,14,15 and 16 for a closing 40.  Reina, had a double and a 9 on a par 5 that cost her 6 shot's.  Par's on those 2 hole's would have resulted in a solid 74.  In her final round, Reina, had 11 par's, a double bogey on the par 5, ninth hole and 6 bogies.
   In the Girls 9-11 Division, Bella Yang and Gabby Kano for 5th place.  Bella shot 40-44 (84) while Gabby (who will soon be 12), shot 41-43 (84).  Bella had 7 par's, 10 bogies and a lone double in her round.  Gabby, had 9 par's, 7 bogies, a double and a triple bogey in her round.
   David Sun, shot 77-75 (152) to finish in a tie for 7th place in the Boys 12-14 Division, while Brooke Li, shot 76-77 (153) to finish in 11th place.  Sihao (Thor) Cong shot a pair of 38's (76) to finish in 10th place in the Boys 9-11 Division.
   Catherine Yu, playing in the Future Champions Tour at Escondido, finished in 9th place.  Catherine, was not happy with her play this weekend.  In Catherine's first she shot a respectable 38, but on her back nine she made 4 double's and a bogey to +9, 44.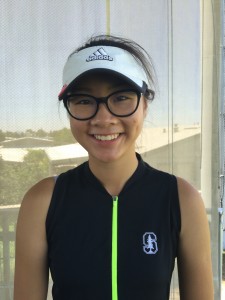 The second day she had 4 par's, a birdie, 3 bogies and a triple to shoot a +5, 40 on her first nine holes.  Catherine, played well on the back nine with a birdie, 6 par's and a pair of bogies for a +1, 36 (more like Catherine) to finish with a 76.  The event was played at The Vineyard at Escondido.
   Kat Muzi, Crystal Wang
and
Keisha Lugito,
will be playing in the qualifier for
USGA 2016 Women's U.S. Open. 
The qualifier will be played at
Pacific Palms Resort (formerly Industry Hills Golf Club)
on
May 31
.  The qualifier will be 36 hole's and will be played on
The Ike
golf course.  If you are in the area, spectator's are welcomed.