Katherine "The Kat" Muzi and Crystal Wang played well in difficult condition's at the AJGA's Ryan Moore Junior Championship at Anthem in Henderson, Nevada. The 3 day, 54 hole event was played at Anthem Country Club.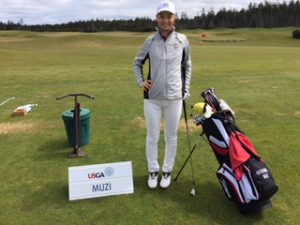 Kat started off the event with a double bogey on the second hole in the first round and made another bogey on the fifth hole. She settled down and got control of her emotion's and her golf ball to finish the final thirteen holes in -3 under par to post 38-34 (72) in the first round.
Unlike the first round, Kat got off to a fast start on the second day with 2 birdies in the first 3 holes, before making back to back bogies on seven and eight, to post an even par 36. Her back nine was pedestrian with 3 bogies and a birdie for a 38. 36-38 (74).
The third round was played in windy condition's. Kat told her coach, George Pinnell, "I played well under the condition's. I hit 11 fairway's, 13 green's and had 34 putt's. I had three, three putt's on the front nine because of my failure to judge the wind conditions. I was left with long par putt's that was unable to make."
Kat has a busy upcoming schedule. She leave's Saturday for Rochester, NY, where she will compete in the Rolex Girls Junior Championship at The Country Club of Rochester. She will them fly to Johnson, Arkansas and play in the Stacy Lewis Junior All-Star Invitational before heading to the USGA Girls Qualifier in Whittier, CA. Following the qualifier, she will compete in the Yani Tseng Invitational presented by Swinging Skirts at Ruby Hill Golf Club in Pleasanton, CA.
Crystal Wang, played solid golf at the Ryan Moore event. Crystal shot 75-73-77 (225). Crystal was -1 under par thru the first six holes in the opening round, before she made mistakes on seven and nine by posting bogies. Her back side consisted of 7 pars and 2 bogies for a 38 to go along with her 37 on the front (75).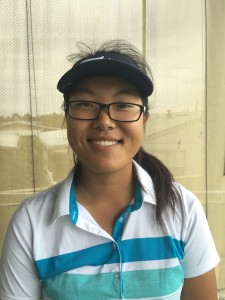 The second day she made birdie on the fourth hole but then made bogies on four of the next five holes to post a 39 on her first nine. CW, settled down after making a par and then another bogey on eleven. She reeled off 3 birdies in the next four holes and shot a -2, 34 for a 39-34 (73).
Crystal got off to a "hot" start on her final round. She made par on the first hole and then "ripped" off three birdies in a row before making a double on the fifth hole. She backed up the double with a solid birdie before making bogies on seven and nine. She posted an even par round of 36. Crystal's played the back side in five over par 41 to post 36-41 (77), and finish in 7th place.
Michelle Chang, who will graduate high school in 2021, shot 81-76-88 (245). The youngster from Diamond Bar, CA, qualified for the event in the 18 hole qualifying round, prior to the tournament.
The players all played well, but the mistake's causing bogies and double's kept Kat and Crystal from having a shot at winning the event. Both players will work hard to better control their golf ball, limiting their mistakes so that the birdies they make will contribute to lower scores and keep them in contention for winning another championship.