13 year old, Rose Zhang, placed third in only her second AJGA event she has entered (She won the first one). Rose, shot 72-71-73 (216) on the ASU Karsten Golf Course in Tempe, Arizona. Grace Ni, Cypress, Texas, won the event by shooting 65-72-70 (207). Rose, had a hold on second place in the third and final round, with a round of 1 over par thru her first 15 holes. Her second double of the day (a rarity) on 16, followed by a bogie on 17, dropped Rose to third place. Showing her determination, the number one ranked 2021 graduate, regrouped on the final hole and stuck her approach shot, 2 feet from the hole and made birdie to finish in third place alone. If she would have pared the last hold she would have finished in a tie for 4th place.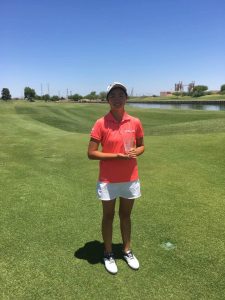 The morning of the final round, Rose, did not feel well and "lost" her breakfast soon after eating. The strong willed 13 year old, put herself together and finished the event. Rose said, "I was not happy with not holding on to second place, but that will make me work harder on my game, so that what happened on 16 and 17 will not happen again."
Derek Kim, had a good tournament at the PING Phoenix. Derek, shot 71-71-71 (213) to finish in a tie for 9th place. Derek's play was highlighted by an eagle and 10 birdies in the 54 hole event. 2 double bogies were the only severe mistake's on his relative "clean" scorecard.
At the Rolex Girls Championship at The Country Club of Rochester, Rochester, N.Y., Kat Muzi, shot 78-78-78-79 (313) to finish in 48th place.
At the AJGA Junior All-Star at Lost Springs, Bentonville, Arkansas, Ke (Coco) Yang, shot 74-77-73 (224) to finish in a tie for 7th place. Coco, told her coach, George Pinnell, "I was pretty satisfied with my play this week. I made 6 birdies and only 12 bogies and 1 ugly double, in 54 holes. I was happy that I eliminated mistakes that would lead to more bogies." Coco will graduate high school in 2020.
In SCPGA action, Nicole Ho shot 84 and finished in 15th place (Girls 11-12 Division) in the IMG Qualifier for Junior World. The event was played at Alhambra GC. Brian Ho, shot 45 and finished in a tie for 15th in the Boys 9-10 Division. Via Lan, shot 44 and placed tied for 17 in the Girls 9-10 Division, while Michelle Ho, shot 48 and finished tied for 24th.
Anna Dong, tied for first place at the Junior World Qualifier (15-17) at Los Serranos. Anna fired a -3, 69. The 17 year old, had 6 birdies and 3 bogies in her solid play in the qualifier. Keisha Lugito, shot 77 and placed tied for 18th while Tiffany Yu shot 83 and finished tied for 38th. Amanda Lee, shot 87 and finished in 45th place.
In the Junior World Qualifier at Green River for the Girls 13-14, Megan Lee, shot a 77 and finished tied for 2nd and qualified for the Junior World.
Brooke Li, shot a +2, 74 to finish in 8th place at the Woodley Lakes Summer Championship.
Bella Yang, shot a 50 and placed 6th in the Brookside Summer Championship. Bella, played in the Girls 9-11 Division. Brooke Li, shot 74 and placed 5th in the Boys 15-18 Division.
Irene Park, won the Girls 12-14 Division, with a 75 at Brookside. Irene, was happy with her play because she was able to cut down on her mistakes. She had a birdie, 12 par's and 5 bogies in her round. Reina Tain, posted a 79 and finished tied for 3rd place.
In JDT action at El Segundo, Lucas Bao placed 14th in the Boys 11 & under Division.
Lucas shot 39.
David Sun, shot 80 and finished in a tie for 22nd in the Toyota Tour Arroyo Trabuco Qualifier at San Clemente GC. In the Girls Qualifier, Michelle Xu, tied for 1st place with a 77 and qualified for the Toyota Tour event.