Crystal Wang, 15, from Diamond Bar, CA., won the Junior PGA Section Championship played at California Country Club on June 20-21.  Crystal's opening round of 70 (-4) on the par 74 course was enough to hold off the field as she posted a solid par, 74 in her final round.  70-74 (144) was good enough to win by 4 shots over Hana Koh from Anaheim, CA.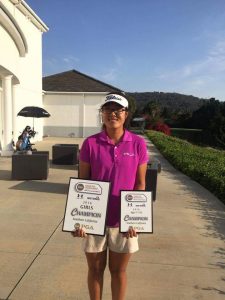 Crystal got off to good start by going -4 under par in her first 14 holes.  She had 5 birdies and a lone bogey on the 2nd hole.  She played the finishing 4 holes at even par.  After the round Crystal and her coach, George Pinnell, talked about the first round and how to approach the 2nd and final round.  Coach Pinnell, told Crystal, "to forget about the first round and focus on the task ahead of you.  You may or may not have the same feel that you had today, so you have to adjust your swing to be able to make a score without having your A game.  It is really important for you to back up your round today with maybe, a par or close to par, in your final round.  You want to shoot -4 again, but that may not be possible, depending on how you approach your day after your warm up.  Plan each shot and then execute to the best of your ability on THIS day.  If you do this CW (Crystal Wang), you will be in a position to close with a win."
Crystal got off to a hot start by making birdies on 1, 3,and 6 before making a bad 7 on the par 5, 9th hole.  CW, made 3 par's on 10,11 and 12 before making another birdie on 13 to go back to -2 in her round.  CW, finished her round with a bogey on 14, par's on 15, 16 and 17 before making a bogey on the final hole.  The 4 birdies, double bogey and 2 bogies put her at a respectable 74 (even par) to go with her -4 under 70 on the opening day.
Crystal and Pinnell, have been working hard to "finish" round's to be in a position to win, when the opportunity presented itself.  Crystal Wang, did a good job of backing up her -4 under round with a solid, even par in her final round to ensure that she would win the championship.
---
Keisha Lugito, shot 78-84 (162) to finish in a tie for 15th.  Catherine Yu, from Walnut, CA., shot 80-82 (162) to tie for 15th.
---
In the Girls 12-14 Division, Michelle Chang, shot a pair of 82's (164) and 7th place.
---
William Mouw, shot 72-68 (140) (-4), to finish in 2nd place in the Boys 15-18 Division.
---
Congratulation's to Crystal and all of those players who played as hard as they could in the 108 degree temperature in the first round.