13 year old, Rose Zhang, continue's to perform well on the Toyota Tour and the AJGA Junior Tour. Rose, fired a pair of -3 under par 69's (138) on the outstanding conditioned, Bear Creek Golf Club in Murrietta, CA. Rose won the event by 13 shots. Her opening day, consisted of 5 birdies (4 in a row) 11 par's and a pair of bogies. Rose's second round was made up by a stellar start of -5 in the opening 13 holes before she made a bogey on 14 and another on 16 while making 11 par's.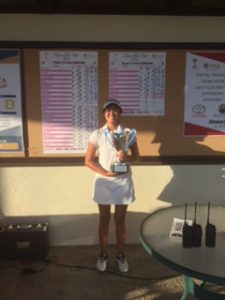 Rose sent a text to her coach, that read, " won! My long game and short game was great. The wind was even stronger than yesterday and there was a 10 minute delay which resulted in a 6 hour round. I am really surprised that I did just as well as yesterday. I still have some things to improve but I am really proud of my score."
Rose dominated the Players Statistics by:
1ST MOST PAR BREAKERS (10)
2ND MOST PARS (22)
1ST MOST PARS OR BETTER (32)
1ST BIRDIE OR BETTER STREAK (4)
1ST BOGEY FREE STREAK (22)
T1ST PAR 3 LEADERBOARD (2.8)
1ST PAR 4 LEADERBOARD (4)
1ST PAR 5 LEADERBOARD (4.6)
Rose was coming off of a 3rd place finish, two weeks ago, in the AJGA PING Phoenix event.
In Toyota Tour Championship play in 2015-2016, she has 2 win's and 14 top 8 finishes in 17 events! The two win's have come in 2016 where she has played in 5 events.
Ki Coco Yang, continued her improved play by finishing in a tie for 7th place. Coca shot 85-77 (162). Coco is working to improve on limiting the number of mistakes that lead to a big number on an individual hole. Coco lost 7 strokes in 2 holes in her first round, that lead to the 85. Her second round had a birdie, 11 pars and 6 bogies.
Catherine Yu, struggled with a two day score of 84-90 (174). Catherine had difficulty staying away from "big" number's this week by losing 19 shots in 7 of the 36 holes. Cath, will get back to work to correct the causes of her poor performance this week.
In the Boys Toyota Tour Championship, William Billy Mouw, won by a shot by posting 75-73 (148). Billy is a freshman in high school. The long hitter from Chino Hills, CA., had 5 birdies 24 pars, 5 bogies and 2 double bogies. Billy has had success on the SCPGA Junior Tour and now is taking that success to the TTC Tour.
In SCPGA Junior Tour action, Irene Park won first place in the Navy Summer Championship on the Navy GC-Destroyer course. Irene shot 80 and won by 3 shots over S. Jang, Irvine, CA.
Nicole Ho shot 91 and placed sixth. Girls 12-14 Division.
In the Boys 15-18 Division, Brooke Li, shot 76 and finished in a tie for sixth place.
Nicole Ho, won the El Cariso Summer Championship with a 77. Nicole compete's in the Girls 12-14 Division.
At Scholl Canyon, Brooke Li tied for 1st place with a +2, 62. Brooke plays in the Boys 15-18 Division. Garrick Chiu, shot a 71 and finished tied for 10th place in the Boys 12-14 Division. Garrick made the first eagle of his career on a par 4 hole!
Reina Tain, finished in 2nd place with a 66.
In the Golf Pride Willowick Championship, Brooke Li, shot 81 and finished in 17th place.
Reina Tain, won the Girls 12-14 Division with an 80. Reina is continuing to improve her game and it is showing with her good play this spring and summer.
In JDT (Junior Development Tour) at David L. Baker, Brian Ho, finished in a tie for 11th place with a 37, while Richard Mao, finished in a tie for 12th in the Boys 12 & Up Division. Richard shot a 41. In the Girls 11 & under, Michelle Ho, shot a 39 and finished in 10th place.
Lucas Bao, tied for 2nd place in the JDT Summer Championship at Lake Forest GC. Lucas shot a solid 36, while Brian Ho shot 36 and tied with Lucas. Richard Mao finished in 6th place in the JDT Boys 12 & over, with a 36.
Michelle Ho, tied for 3rd in the JDT Girls 11 & under with a 41.