Kat (Katherine) Muzi
, 15, from Walnut, California, traveled to Salinas, California to qualify for the Girls' Amateur.  Because of
Kat's
busy schedule, she had to travel 332 miles north, to The Club at Crazy Horse Ranch to attempt to qualify. The Girls' Amateur will be played at The Ridgewood Country Club, Paramus, N.J.,
July 18-23, 2016
.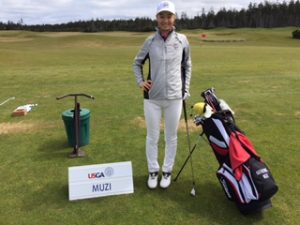 Kat posted a 72 and was one of the six girls' to qualify for this prestigious event.  In her qualifying round, she hit 9 fairway's, 9 green's and had 26 putt's.  Hitting only 9 green's would indicate that her short game was on.  Another indication of this was her 26 putt's.  As ALL good player's know, a good score is indicative of putting and short game play.
Kat
and her mother, returned home after the long qualifying round so that she could tee it up for
Tuesday's
(today) USGA Women's Amateur Qualifier, to be played at Friendly Hills Country Club in Whittier, CA.
Congratulation's to Katherine, and good luck today at Friendly Hills.