Kat Muzi, shot 74-76-73 (223) to place tied for 20th place in the Yani Tseng Invitational presented by the Swinging Skirts. Kat's goal was to limit her mistakes and to eliminate "big number's," in this event. She was pretty successful, because she had only 1 double in 54 holes. The field was one of the strongest on the AJGA Tour this summer.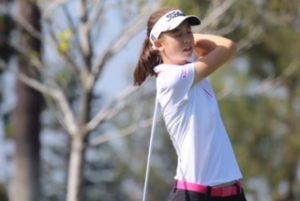 Kat Muzi at AJGA Yani Tseng Invitational presented by the Swinging Skirts.
The Harry Pressler Memorial was played at the difficult Babe Zaharias Golf Course at the Industry Hills Resort, in the City of Industry. Brooke, shot a 76 on the difficult Babe Zaharias Course. In the Girl's 12-14 Division, Gabby Kano, shot an 80 and finished in 2nd place.
Brooke Li, played in the Ping 2-Day event at Olivas Links GC. Brooke shot 78-79 (157) to finish in 14th place.
At the Dad Miller event in Anaheim, Reina Tain, shot 80 and took 3rd place in the Girls 12-14 Division.
Bella Yang, placed 2nd in the Girls 9-11 Division at the El Dorado Park GC, while Brooke Li placed tied for 16th in the Boys 15-18 Division. Brooke, shot 81.
In the Toyota Tour Mountaingate Qualifier, played at El Prado GC, Eric Han posted an 85 to finish in a tie for 37th. Michelle Chang, shot an 80 and missed qualifying by 3 shot's with her 80. She tied for 12th place.
Garrick Chiu, shot 87 and finished in 11th place at the 61st Santa Anita GC event. Garrick, played in the Boys 12-14 Division.
In JDT action, Lucas Bao, tied for 3rd place in the JDT Summer @ Rancho Duarte GC. Lucas fired a 37. Lucas, placed 3rd in the JDT Summer Event at Monterey Park CC. Lucas, shot 40, while, Brian Ho, finished in a tie for 7th place with a 44. In the Girls 11 & under, Michelle Ho, shot 42 and finished in a tie for 3rd place.