Crystal Wang, lit up The Legends Golf Club at Temeku Hills, Temecula, CA, with a final round 66 (-6) to win AJGA's Enagic Junior Championship. Crystal, shot 69-70-66 (205) to win by 5 shots over Eunice Kim from Australia. CW, as her coach call's her, made 15 birdie's and only 4 bogie's in 54 hole's, in her first AJGA victory.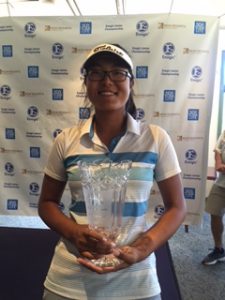 Crystal, credited her good play, to an adjustment in her swing, that she has been working on with her coach, George Pinnell. Pinnell said, "Crystal has been working hard to eliminate course management mistakes and to be more consistent in her ball striking. Her putting is improving, as shown by her 15 birdie's this week. CW, when not playing in a tournament, practice's 6 to 7 hour's a day."
Crystal will be a junior at Diamond Bar High School, Diamond Bar, CA. As expected she is drawing interest from several Big Ten, Pac 12 and SEC schools regarding scholarship offer's.
In SCPGA action, Bella Yang, 9, shot 46 and tied for 4th place in the Rancho San Joaquin Summer Championship. Bella, compete's in the Girls 9-11 Division.
At the Rec Park Summer Championship, Brooke Li, finished in tie for 18th place with an 83, while Garrick Chiu, finished in 14th place with an 89.
Reina Tain, shot 79 and placed 3rd in the Girls 12-14 Division.
Michelle Chang, Diamond Bar, CA, qualified for the Toyota Tour Championship at Oak Valley by posting a +1 over 73 at Skylinks Golf Course, to finish in a tie for 3rd place. Angela Wu, Huntington Beach, CA, finished in a tie for 5th place with a 74, and missed qualifying by a single shot.
In JDT action, Lucas Bao, shot 36 and tied for 9th place at Manhattan Beach.