Catherine Yu, shot 73-72-74 (219) to finish in a tie for 9th place at the AJGA Junior at Oak Tree Country Club, Edmond, Oklahoma. Catherine was able to limit her mistake's in her first Top Ten finish in a national event. The senior at Walnut High School, Walnut, CA. made 8 birdies and 11 bogies in the 54 hole event.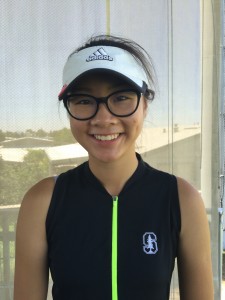 Catherine did have a double in each round and she was not happy with her inability to play the entire event without a double bogey. Catherine, has been playing a full schedule this summer preparing herself to play collegiate golf after she graduates high school in 2017.
Amanda Lee, a 2018 graduate from Chatsworth, California, competed in the AJGA Junior at Centennial Golf Club, in Medford, Oregon. Amanda, shot 80-77 (157) and missed the cut for the final round.
In SCPGA Junior Tour action at Industry Hills, Gabby Kano, tied for 9th place in the Girls 12-14 division with score's of 85-83 (168). Karina Guo, Encino, CA., played the best she has played this summer by scoring 78-73 (161) on the difficult Babe Zharias Course at Industry Hills. Bella Yang, continued her growth in the game by finishing 2nd in the Girls 9-11 Division. Bella shot 44-45 (89) in the two day event.
Brooke Li, shot 76-79 (155) to finish in a tie for 7th place in the Boys 15-18 Division.
At the Lakewood Summer Championship, Reina Tain, shot 80 and tied for 2nd place in the Girls 12-14 Division.
Brooke Li, tied for 2nd place in the Dad Miller Summer Championship in the Boys 15-18 Division. Brooke, posted a solid 72 and missed first place by a shot.
Reina Tain, continued her good play this summer, by finishing in 2nd place with a 76 at the Rio Hondo Summer Championship.
Congratulation's to Catherine for her top ten finish at Oak Tree and to all of the junior's who are committed to improving their game.