13 year old, Rose Zhang, shot an opening round 68 at Vista Valley Country Club in Vista, California, to lead by 2 shots over Brittany Park. Rose, opened with a par and a bogey on the first and second hole's. She made back to back birdies on five and six, shooting a -1 under par 35. Birdies on ten, twelve and fourteen, countered the lone bogey on the thirteen hole. Rose, made par's on the rest of the hole's, finishing with a -3 under par 68.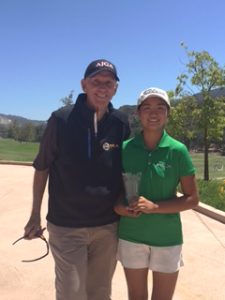 The second round was not as kind to, Rose. Expecting another under par round was in the plan for the remaining 36 hole's. Vista Valley CC is a course where par, is a good score. The pin placement's on the second and third round's, made it difficult to get close enough to make birdies. Rose made a birdie on five but bogeyed six, seven and eight, a very unusual occurrence for the 13 year old. She went on to bogey eleven, twelve and fourteen before posting a birdie on sixteen. She pared out with 38-37 (75) and a two round score of 68-75 (143) and putting her into a tie for 2nd place.
Undeterred, Rose, determined to post a good final round score shot a +1 over par 72 to finish in a tie for 3rd place. The third round consisted of two bogey's on the front for a 38 and a -1 under par, 34 on the back to finish with a 72.
The talented, understated player from Irvine, California, has had a summer worth noting on the AJGA Junior Tour, the premier junior golf tour in the United States. Rose has two win's, a 2nd, two 3rd place's and a 6th place. That is, 6 top six finish's in 6 tournament's, the maximum event's a player can enter in a year. Rose's, great play over the summer has her in a position to make a run at making the coveted Polo Rolex All-American team. As of this date, she is ranked number 35 in the Polo Rankings. Rose is also the number 1 ranked 13 year old in the United States.
It is worth noting that Zhang won 2, Toyota Tour Championship's in 2016 and tied for first place over the weekend and placed 2nd in the playoff at the Oak Valley Toyota Tour Championship. The Toyota Tour is the premier tour within the Southern California PGA Junior Tour.