Rose Zhang, continues's her run to finish the summer of 2016 with a solid tie for first place (2nd after playoff) in her final summer event, the Toyota Tour Championship at Oak Valley Golf Club. The opening day, the event was played in extreme heat, where Rose experience a bloody nose and painful cramp's in both of her feet. Not feeling well and knowing the worst was to come, she fought hard to make two birdies and two bogey's to post a par 36 on the opening nine holes. She did the same on the back side to finish with an even par 72. Two player's had posted -4, 68's to lead Rose by 2 shot's going into the final round.
There was concern about Rose's ability to finish the event after the painful cramp's and bloody nose, caused by dehydration (a lack of water). Rose's father, Henry was concerned and thought about withdrawing. Rose talked with her coach, George Pinnell, about what she should do and Pinnell, suggested she not withdraw the night before, but to hydrate herself by drinking more water and see how she feel's in the morning. That would be the time to make the decision on playing or not. Pinnell, reminded her the importance of staying hydrated in the summer heat to prevent the painful cramp's and the chance of a "heat stroke", that could be extremely dangerous.
Rose woke on the final round morning and decided to play, even though she did not feel at her best. She opened the day with 2 par's, then made the only bogey of the day on the 3rd hole. From 4 thru 18, Rose, played the remaining 15 hole's in -3 under par. She posted a second round -2, 70 to get into a playoff with Serena Chon and Serena Sepersky. Rose shot the low round of the day to catch Chon and Sepersky, but she was unable to convert her birdie putt on the third playoff hole to continue the playoff with Sepersky, who won the event with a 2 putt, birdie on the par 5 hole.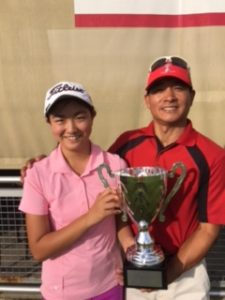 Although, Rose was unhappy that she couldn't finish stronger to win the event, she was satisfied with her final round play, coming off of the difficult cramps and bloody nose caused by the extreme heat, the day before.
Ki (Coco) Yang, another Pinnell, protege, finished in 4th place with round's of 70-74 (144). Coco, has worked hard on her game this summer and played in a number of AJGA event's as well as the Toyota Tour Championship's. Coco has gained useful knowledge and experience to carry into the fall season.
Michelle Chang, who is also coached by Pinnell, finished in a tie for 15th place with score's of 77-55 (152). Michelle, will be going into the 9th grade this week.
In SCPGA Junior Tour Action, Brooke Li, shot 80-75 (155) and finished in 17th place at the 58th Lee Hammil Championship, played at Los Coyotes Country Club. Karina Guo, shot 80-82 (162) and finished in 10th place in the Girls 15-18 Division.
Reina Tain, continuing her quest to earn enough point's to qualify for the Toyota Tour Championship Tour, won the Girls 12-14 Division at the 27th Costa Mesa Championship at Costa Mesa Golf & Country Club, with a good score of 74-73 (147). Reina, has been working hard to lower her score's and that work, is paying off, as exhibited by her recent score's. Irene Park, finished 4th in the same division and is excited about her improved play this summer. Irene, shot 76-80 (156).
Angela Wu, Irvine, CA, shot 81 to finish in 2nd place at the Desert Princess Qualifier for the Toyota Tour event. The qualifier was played at Recreation Park GC, Long Beach, CA. Angela, is working with her coach, George Pinnell, to get her club delivery a little more on plane, to improve her ball flight.
Summer is coming to an end as the junior's get back to school and event's will be held on the weekend's. Congratulation's to all of the player's and especially those associated with the George Pinnell Golf Academy.
Study hard and get "better" over the fall and winter season.