Irene Park wins First Place at Willowick Fall Classic and ties for First Place at El Dorado Fall Classic
Irene Park, shot a solid 78 in the SCPGA's Girls 12-14 Division, to win first place at the Willowick Fall Classic. Irene won by 2 shot's over Azadeh Varnado, who shot 80. Bella Yang, shot 86 and finished in fifth place. This was Bella's, first 18 hole tournament in the 12-14 Division.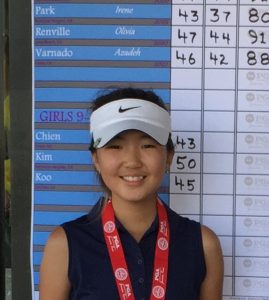 Irene Park
At the David L. Baker Fall Classic, Bella Yang, shot 80 and finished ninth in the Girls 12-14 Division.
At El Dorado, Irene Park, continued her good play and tied for first place with a 74. Irene, in a card off, got second place, but her good play over the weekend is helping her confidence level.