Student player's at the George Pinnell Golf Academy performed well over last weekend's Cleveland/Srixon 2 day event. You Seong Choi (11), shot 74-75 (149) to secure a 3rd place tie in the Boys 12-14 Division. 11 year old, You Seong, had an Eagle, 5 birdies, 19 par's, 10 bogies and 1 double bogey in his T3rd place finish.
In the Girls 12-14 Division, Gabby Kano, shot 83-79 (162) to finish in 4th place. Gabby, struggled a little in the opening nine hole's by going bogey, double, double bogey, bogey in her opening 5 hole's. Gabby, turned it around and finished strong by going +4 over in her last 13 hole's.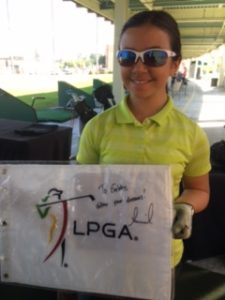 GABBY KANO
Gabby's second round was an improvement with 11 par's and 7 bogies. Gabby used a new driver with a lower loft and a stiffer shaft that provided longer drive's but it took her a little time to adjust to the longer, stiffer shaft.
Irene Park, secured 5th place with round's of 81-83 (164). Irene was plagued with 3 double's and a triple bogey to go along with her 21 par's in the 2 day event. Irene, who usually make's her share of birdies, was unable to get any over the weekend event.
In the Girls 15-18, You Lin Choi (You Seong's sister), finished in a tie for 4th place by posting a 78-82 (160). You Lin made bogies in her opening 2 hole's but turned her play around, by going only +4 over in her remaining 16 holes. In her second round, You Lin, was even after five hole's, but struggled by going +10 in her final 13 hole's. You Lin, will be working hard to learn how to finish a round or tournament with a strong finish.
In JDT action at Heartwell, Kora Chiu, played well by finishing in a tie for 3rd place with a solid 32 (+5), while her brother Garrick finished in a tie for 4th at the Scholl Canyon Fall Classic (Junior Tour). Garrick shot a 70 on the par 60 course. 3 double bogies in his final 11 hole's derailed Garrick's effort to finish stronger. Garrick's, ball striking is improving, according to his coach, George Pinnell.
Michelle, finished in 3rd place at Scholl Canyon with a 68, in the Girls 12-14 Division. Michelle, struggled in her opening 9 hole's but made adjustment's and played 2 over in her final 9 hole's.
Anna Dong, shot 77-76-73 (226) to finish in a tie for 7th place at the Corey Pavin Invitational at Indian Wells. Anna, performed well over the 54 hole event and finished strong in her final 11 hole's, by going -1 under to post her 73.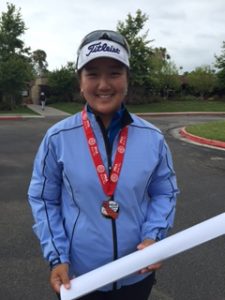 ANNA DONG
Anna finished her second round by going -1 in her final 5 hole's, showing that she is able to come back from a mistake and still finish strong in tournament play.
In Toyota Tour action, Amanda Lee, finished strong with a 4th place at the Toyota Tour Cup Morongo Qualifier at General Old in Riverside, CA. Amanda got off to a great start by going -1 under thru 13 hole's before making back to back double bogies on 14 and 15. Amanda, rebounded on 16 and 18 with par's to post her 77.
Michelle Chang, tied for 4th and qualified in a play off with her 18 hole score of 77. Michelle made 4 birdies in her round to go along with 7 par's, 6 bogies and a lone double on the par 3, 11th hole.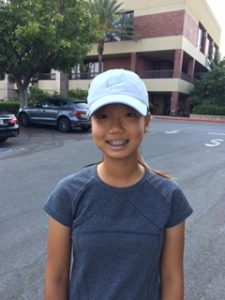 MICHELLE CHANG
Amanda Lee, shot 87 and finished in a tie for 16th place.
Congratulation's to all of the junior player's that are working so hard to improve their game and their tournament performance!