12, year old, You Seong Choi, won the Cleveland/Srixon 36 hole tournament at Recreation Park in Long Beach, CA. The young charge from Hacienda Heights, CA, shot 72-72 (144) to win by 3 shot's over Patrick Hong. You Seong, made birdie on the second hole but made two back to back bogies on three and four. Four par's on five thru eight kept him at +1. You Seong, made a birdie on nine, followed by a bogey on ten. The twelve year old (July 10), wanted to finish strong so he played the remaining eight hole's in -1 with a bogey on thirteen and birdies on fourteen and seventeen to post 72.
You Seong's, second round was similar with a birdie on four and bogey on six, followed by a birdie on seven and consecutive bogies on eight and nine to post +1, on his opening nine. Not happy with his performance on the opening nine, he wanted to "finish" the round and tournament with a flourish. You Seong, made seven par's in a row before making a birdie on seventeen and a par on eighteen to go -1 on his back side for another even par 72 and the victory.
You Seong Choi has won 6 tournament's since March! He has 17 top 7 finish's in 17 start's that include 3, 2nd and 2, 3rd place finish's. His stellar play has him ranked the #1, 11 year old in California. You Seong, is currently ranked the #5, 11 year old in the United States. You Seong, is certainly trending in the right direction. STAY TUNED!
In the Girls 15-18 Division, You Lim (Judy) Choi, finished in 3rd place, with scores of 77-77 (154). Judy, found the back side of Recreation Park to her liking, as her 2 day back 9 score was +1 over par while her front side 2 day total, was +9.
At the Upland Hills Country Club Fall Tournament, Gabby Kano, won the event with a 75 while Irene Park shot a 76 and finished in 3rd place in the Girls 12-14 Division. Gabby, made a birdie and 6 bogies in her victory. Gabby, used a borrowed Callaway Fusion 5 wood from her coach to assist her in the win while going +1 in her final 8 hole's for a strong finish. Irene, played well on her back side by posting a 1 over par 36. Bella Yang, shot 90 and finished in 11th place.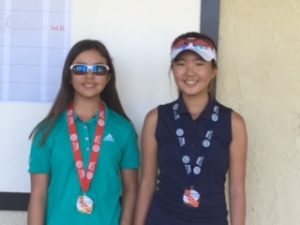 GABBY KANO (left) and IRENE PARK (right)
In JDT action at Duarte Golf Course, Kora Chiu, finished in 3rd place with a 38. Kora's, score of 38 was significant because it was her 3rd score of +9 or better in a JDT event that allows her to qualify for the SCPGA JR Tour (the next level). Congratulations to Kora, and her move to the Junior Tour.