Rose Zhang and Anna Dong, qualified for the 2017 Women's Four-Ball Amateur Championship. Rose and Anna, shot 69 to tie with Jennifer Cai/Olivia Yun and Nicole Whiston/Waverly Whiston. Rose and Anna, along with Jennifer and Olivia, made par on the playoff hole to qualify. Annick Haczkiewicz/Sydney Smith won the qualifier with a 68. The qualifier was played at Spring Valley Lake Country Club.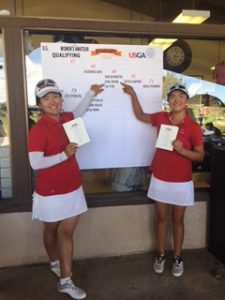 Anna Dong pictured on right
Rose and Anna, along with Annick/Sydney and Jennifer and Olivia will travel to Myrtle Beach, South Carolina to play the Four-Ball Championship on May 27-31, 2017.
Rose was pretty happy with her play, considering she had just put a new set of Callaway XR Steelhead in her bag for their first competitive event. Rose was surprised that she was getting an extra 10 yards per club in distance. She had to adjust her new found distance's on the fly. Rose and Anna "ham and egged" it to their qualifying score of 69 and was happy to qualify in the play-off.
Rose has been honored to be selected as a Team Callaway Junior Staff Member. Rose was recently fitted at the Ely Callaway Tour Fitting Center and was given all of the amenities given to PGA and LPGA Tour Player's.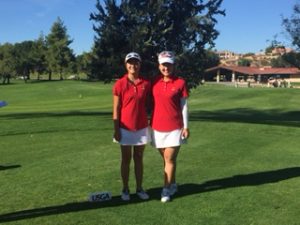 Rose Zhang pictured on right
The young player from Irvine, California, has been invited to play in the prestigious Ping Invitational that will take place in Stillwater, Oklahoma at Karsten Creek Golf Club. The event will be contested on October 7-10 and will have an impact on the Rolex Junior All-America Teams.