13, year old, Rose Zhang, put on her own Ryder Cup style finish in winning the Toyota Tour Championship at Morongo GC. Rose shot 74-68 (142) (-2) to win her 3rd Toyota Tour Cup in 2016. Rose was 3 shots behind the leader after her opening round 74 (+2). She was not happy with her 3 birdie and 5 bogey showing in the first round.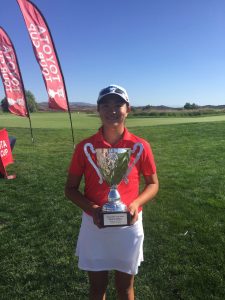 The #1 ranked 13 year old in the United States, found herself 5 shot's behind the leader after 5 hole's in the last round of the 36 hole event. Starting on the 10th hole and opening with a bogey 5, Rose, made a birdie on 15, bogeyed 16, and then proceeded to do an imitation of Ryder Cup hero, Patrick Reed, by making 6 birdies in her final 10 hole's, to post a 68.
Zhang, has been working with her coach on improving her putting stroke and found that she need to improve her path and face angle.
She worked on her backstroke and she told her coach, "I started to get a better feel of my backstroke after the 9th hole, and that led to my run of birdies." She went on to tell George, "I hit all my approach shots close and made putts when I needed to. For the first 5 holes, I was already 5 down but somehow, I managed to claw my way back. I still can't believe I won today."
Angelina Kim, was second with a good 71-73 (144) score. Ke Yang, was 11th with 80-75 (155) and Michelle Chang, was T24, with 83-79 (162).
In the Boys Toyota Tour Division, Matt Huo, shot 82-77 (159) and finished in a tie for 43rd place.
On the SCPGA Junior Tour at the Willowick Fall Challenge, Irene Park, shot 75 and finished in a tie for 2nd place in the Girls 12-14 Division, while You Lim (Judy) Choi, shot 78 and tied for 2nd place in the Girls 15-18 Division.
In the Boys 12-14 Division, You Seong Choi, was playing with a severely swollen right arm after being bit by a bug earlier in the week. You Seong, was advised by his coach to withdraw, and rest his swollen arm. But, youthful exuberance told him to play. The resulting score was 79 and a T11th place.
In the Boys 9-11 Division, Elliot Dong, shot a 41 and finished in 3rd place.
At the El Prado Fall Classic, You Seong Choi, shot 78 and finished in a T8th place in the Boys 12-14 Division. You Lim (Judy) Choi, shot 76 and finished in a tie for 3rd place. Gabby Kano, shot 81 in the Girls 12-14 division for a tie for 8th, while Irene Park, finished in 11th place with an 82. Bella Yang, shot 88 and finished in 13th place.
Congratulations to Rose Zhang's, 3rd Toyota Tour this year and to all of the junior's working to improve their game while having fun!