Rose Zhang, the youngest in the field, ranked 26th in the United States (#1 13 year old), found it difficult to navigate Karsten Creek Golf Club, home to The PING Invitational. The PING Invitational invite only 24 girl's and 49 boy's to compete in what is considered an Elite tournament on the AJGA schedule. Rose, opened with a 73 (36-37) to finish the first round in a tie for 10th place. Rose, hit all 18 green's in regulation and made 2 birdies and 3 bogeys in her first day of competition. Rose, told her coach, George Pinnell, that "I have never seen green's this fast and true!" Pinnell, had warned Rose, about the 1020 Bent Grass, and how it would be unlike the Poa Annua grass that is prevalent in California. 1020 Bent provide an excellent surface to putt on, but it can be "very fast and true," whereas, Poa can be bumpy and the ball has a tendency to "bounce" around a little, later in the day. 73 was a good score for Rose, in her introduction to an AJGA Invitational.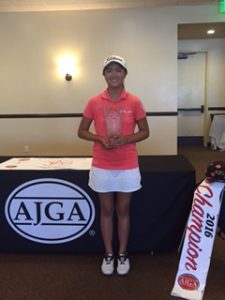 Rose Zhang after her AJGA win at Yorba Linda CC
The second round brought consternation to the young charge from Irvine, CA. Rose, had 6, 3 putt's that resulted in a second round 77 (38-39), that pushed her back into a tie for 15th place. Without the putting woes, caused by her inability to adjust to the green condition's, Rose, would have been tied for 6th place.
The final round result, caused Rose, to tell her coach, "this is the worst that I have ever played!!" Her round of 80, resulted in her 20th place finish. A triple on the par 3, third hole combined with 5 bogey's and no birdies, led to her score. The round was played in windy, rainy condition's and Rose, committed to Pinnell, "I don't see how anyone could shoot under, in these conditions!" She was referring to the winner, Paphangkorn Tavatanakit's, third round score of 69. The number 1 ranked girl in the United States, Jaravee Boonchant, finished in 19th place, a shot ahead of Rose.
After the event, Rose spoke with Pinnell, and said, "I realize that I have much more to work on to compete with the toughest players in the toughest event's." Pinnell, responded, "Use this as a great learning experience. It was not your ball striking, short game or putting that hurt you, it was, not being familiar with conditions that you had never faced before, and you were unable to adjust to them."
Rose, has had a great year with 2 AJGA wins and 3 Southern California Junior Tour Tournament of Champion's win's! RZ is trending upward!!
Note ( Kristen Park won the PING Invitational with score's of 74-70-67 (211) in 2010).