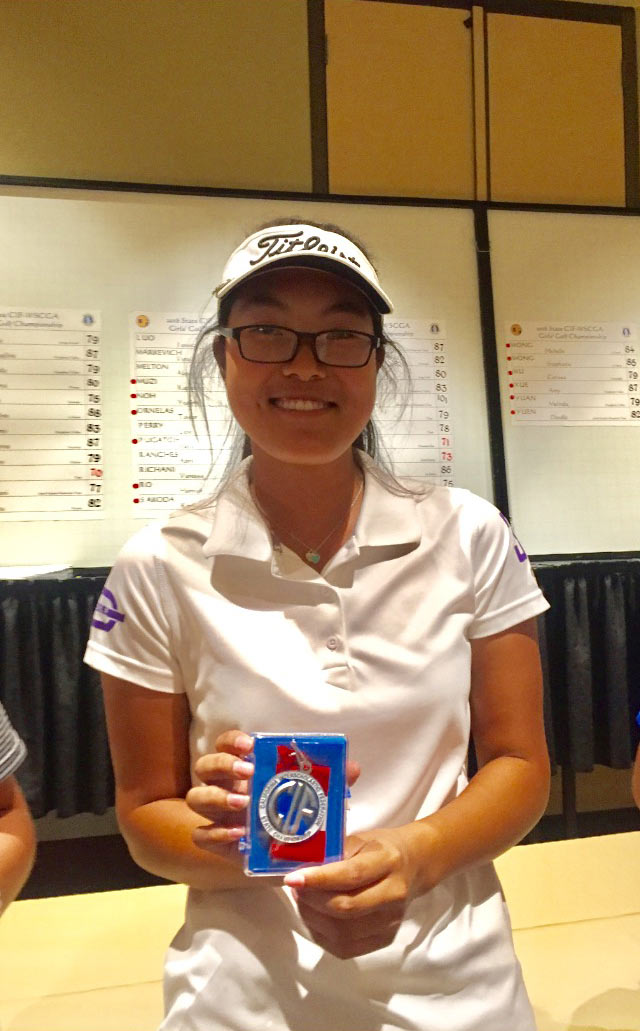 Crystal Wang, a junior, at Diamond Bar High School, Diamond Bar, California, shot a -3 under par 71 (par 74) to tie for 2nd place in the prestigious California State High School Championship. The CIF Championship was played at Red Hill Country Club.
Crystal, made bogies on the first 2 hole's of the event and finished the front nine with a pedestrian 3 over par 37. Crystal, knew that she had to "grind" it out, to get back in contention, to have any shot at winning the event. She reminded herself of being coached to "finish" her rounds and never give up. She got her timing back and got back into the event with 6 birdies, 4 of them on the back 9. Crystal, raised her level of play by making birdie's on 16 and 17 to post a backside 3 under par 34. Crystal's, -3 (71) tied with Briana Chacon. Beth Lillie, of Troy High School, won the championship by a shot, over Wang and Chacon, with a 70.
Crystal Wang 2nd place
Crystal Wang, has a verbal commitment to play golf and attend the University of Illinois, in 2018. Illinois is a Big Ten Conference team.
Keisha Lugito, shot 82 and placed in a tie for 30th. Keisha has signed a National Letter of Intent (NLI) to play for Seattle University next fall. Keisha, is a senior.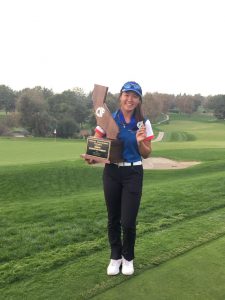 Keisha Lugito with CIF Championship Trophy
Elizabeth Wang, San Marino High School, shot 73 and finished in 4th place. Elizabeth, is a junior this year.
Walnut High School won team honors with a score of 394, 3 shots in front of second place Troy High School.