13 year old, Rose Zhang, Irvine, CA., played her way into a tie for 5th place in the ANNIKA Invitational, played at the Reunion Resort, Reunion, Fla, February 17-20, 2017. 
Rose Zhang, improved her score each day of the 54 hole event.  She opened with a +1, 73 and ended the first round in a tie for 25th place.  Rose, in past event's, has a history of improving after each round.  The ANNIKA, was no exception. Rose, shot 73-71-70 (214) -2.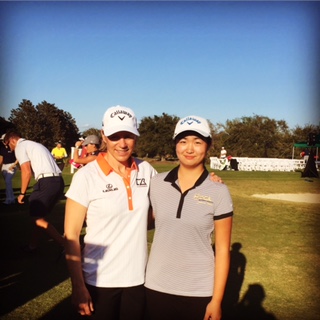 Zhang Rose with the Great, Annika Sorenstam
Her 2nd round was highlighted by her opening 34 (-2) on the front nine.  Rose, made par's on 10-13, before making bogey's on 14 and 15, that slowed her momentum.  The determined 13 year old made par's on 16 and 17 and then birdied the 18th for a -1 (71).
Rose opened the 3rd and final round with par's on 1 thru 6.  Back to back birdies on 7 and 8 gave Rose, her 2nd consecutive 34 on the front 9.  Rose made par's on 10 thru 14 and made a birdie on 15 before giving up a stroke with a bogey on 16.  She made par's on 17 and 18 to post a solid -2 under par 70.  Now she waited for the field to finish the final round to find out that she had tied for 5th place and would earn a coveted trophy from, arguably, the best female player in history, Annika Sorenstam. 
Rose, contacted her coach, George Pinnell, and explained how disappointed she was with her putting for the week. "The longest put I made in the event was a 15′ putt!  I had many birdie putt's from 7-10′ and missed a majority of them.  I had difficulty reading the green's and getting the correct line, based on my speed!" Rose, told Pinnell, "my ball striking was really good this week and the Epic driver I received from Callaway, was really "EPIC"!  I hit it really well!  Even though I am not really happy with my putting, I am pleased that I was able to finish in the top 5 in such an important event that had a great field of the best junior's in the world, playing there.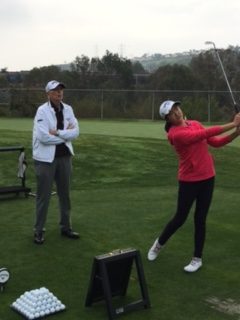 Rose and her coach George Pinnell, at The Ely Callaway Performance Center – 2 day's before The ANNIKA, in Orlando.

"Now, I will not get back to LA until 

midnight

, and, I have to go to school 

tomorrow

."  Pinnell countered, Rose, you are in a "good place" right now, you will be just fine."