Rose Zhang, 13, won her first TTC of 2017 and her fourth in the past 12 month's.  The talented 8th grader won a playoff with Anna Dong, 17.  Rose, shot 69-73 (143) while Anna, shot 70-73 (143).  Their final round was played in cold, rainy weather.  Their final -1 under 143 score was 7 shot's better than the third place finisher, Angelina Kim. 
Rose and Anna are friend's who not only practice together, but have teamed up and qualified for the Women's USGA Four Ball Championship to be played May 27-31, 2017, at The Dunes Golf & Beach Club, Myrtle Beach, S.C.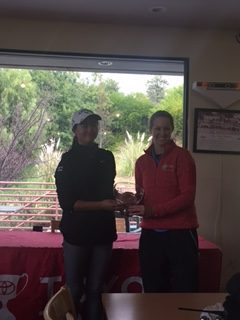 Rose, in the past 12 months has won the 4 Toyota Tour Championship's, placed 2nd, 3rd, in 2 others, while never finishing worse than 7th place in her 8 start's.  On the AJGA Tour, Rose, tied for 5th at  the 2017 ANNIKA, won 2 event's in 2016, was runner up, had 2 thirds, 2 fifth places, a 6th and 20th in 9 events.
GolfWeek's Junior Golf Scoreboard Ranking's has Rose ranked 15th in the nation (age 12-18) while maintaining her number 1 ranking as the top 13 year old in the nation.  AJGA has Rose ranked 21st.
Rose moved up in the national ranking's with her tie for 5th place in the this month's ANNIKA Invitational at The Reunion Resort, Reunion, FL.  The ANNIKA invite's the top 72 player's world wide to compete in Annika Sorenstam'sinvitational event.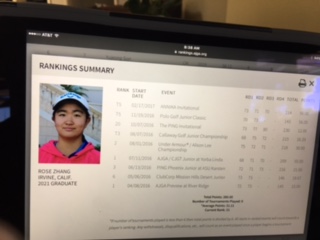 Irene Park, playing in her first Toyota Tour Championship, shot 82-77 (159) and tied for 16th.  A good showing for Irene, who could have had a 75 in the final round, but had a 2 stroke penalty for being late to the first tee.  Irene told her coach, George Pinnell, that, "I learned a lesson and it will not be repeated." Ke "Coco" Yang, shot 77-85 (162) for a 22nd place while Michelle Xu, was tied for 23rd with 83-80 (163).
In the Boy's Division, 11 year old, You Seong Choi, shot a solid 2 day total of 153 with round's of 77-76, to finish in a tie for 14th in his first Toyota Tour event.  David Sun, shot 79-77 (156) for a tie for 24th.
In the Junior Developmental Tour (JDT) at Heartwell GC, Tyler "Buford" Shin, shot 39 and finished in 26th place.  Jackie Li, 8, played in her first golf tournament and shot 49 to finish in 17th place at The JDT @ Brea Creek GC.
Congratulations to all competitors for their success and commitment to excellence.