Matthew Huo, posted a -2, 70 to finish in solo 2nd place in the Toyota Tour Championship @ Woods Valley Golf Club. Matthew's, 2nd place is a career best for a TOC Championship. His 2 day score of 74-70 (144) was a shot lower than 11 year old, You Seong Choi, who also shot -2 under on his final round to post the 75-70 (145) to finish tied for 3rd, also, a career best for You Seong.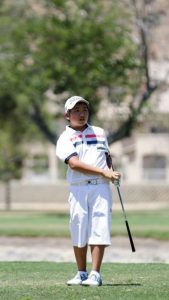 Irene Park, 12, shot 79-75 (154) to finish in solo 12th place. Irene, rebounded from a 2 shot penalty in the first round for being late to the first tee with her 79 on Saturday and then a solid 75 in her final round on Sunday. After a double on the 2nd hole, Irene, played 3-18 in 1 over par.
At David L Baker, 11 year old Bryant Hernandez, fired a -3 under par 28 in the 9 hole format for Boys 9-11 Division. Bryant, had an eagle on a par 4, 2 birdies and a bogey in his winning round. Bryant, told his coach, George Pinnell, "that my ball striking was much better and that along with making a few putt's, was why I played well, today."
Bella Yang, a 12 year old, shot a +10, 72 and finished in a tie for 3rd place in the Girls 12-14 Division. Bella, said, "my short game and putting need to improve so that I can play better and challenge the field."
Bryant Hernandez, shot a +4, 33 at Scholl Canyon on Saturday and finished tied for 3rd, a shot out of another 1st place finish in the Boys 9-11 Division. Garrick Chiu, shot a 75 and placed tied for 18th in the Boys 12-14 Division. Kora Chiu, finished in 6th place with an 80 in the Girls 12-14 Division.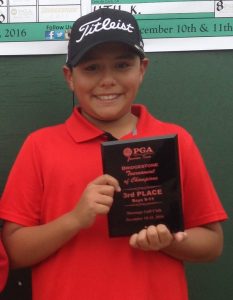 Michelle Chang, finished in solo 6th place with an 83 in the TOC Morongo Qualifier @ Rancho San Joaquin GC. Michelle, had trouble finishing her back side as she had 2 double's and a triple.
Tyler "Buford" Shin, playing in his 2nd tournament of his young career, improved over his first event with a 41 in the 9 hole JDT @ Westchester. "The Buf" finished in a tie for 4th place in the JDT Boys 12 & over.
Congratulation's to all of the good play this weekend!