13 year old, Rose Zhang, won the Toyota Tour Championship @ Morongo Golf Club at Tukwet!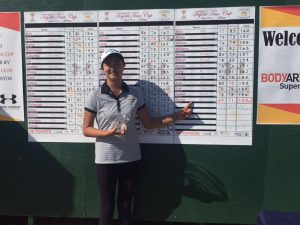 The victory was Zhang's 5th over a 15 month period.  Rose shot an opening day 69

on Saturday

, that included 5 birdies, and 2 pars on the par 72 Legend's Golf Course.  The second round,

on Sunday

, was a bit adventurous for the talented player from Irvine, CA.  Rose played -2 under par thru 13 holes with 3 birdies and a bogey.  The adventure started on the par 4, 14 hole where she posted an unlikely triple bogey 7.  Rose, rebounded with a par on 15, a birdie on 16, a par on 17, and closed with a birdie on 18 to finish the day with a -1, 71.   Rose's, 69-71 (140) -4, gave her a 3 shot advantage over Reina Liizumi, ofSan Diego.
Rose's performance was in spite of her never playing the Legends course, and that caused a little concern, prior to the event. It would appear, that she figured it out, except for the 14th hole.
This outstanding performance, coincides with Zhang's, 2 AJGA win's and 8 top six finish's, in 9 starts on that tour.  And that was accumulated over the last 11 months!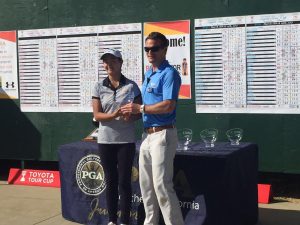 This week, Rose will compete in the ANA Junior Inspiration at Mission Hills Country Club, Rancho Mirage, Calif.  The field will be comprised of the top junior player's in the world and the winner of the 54 hole AJGA event will earn an exemption into the LPGA Ana Inspiration, that will be held on

March 30-April 1, 2017

.  The Ana Inspiration, is the LPGA's first major of 2017.
Reina Tain, withdrew from the event, when she injured her hand in the first round.
In the Boys Toyota Tour Championship, 11 year old, You Seong Choi, shot 80-76 (156) to finish in a tie for 29th place, while Matthew Huo, finsihed in a tie for 49th with rounds of 79-80 (159).  David Sun, shot 74-86 (160) to finish tied for 55th place.
On SCPGA Jr Tour, Bryant Hernandez, shot an even par 72 to finish in 3rd place in the Balboa Spring Event at Balboa GC, in the Boys 12-14 Division.
At the Dad Miller Event, Bella Yang, shot 94 and placed 12th, in the Girls 12-14 Division. 
In JDT action, David "Slo-Mo" Kim, shot 40 and finished in 3rd place in the Boys 11 & under Division at Los Feliz 3-Par.  Tyler "Buford" Shin, shot a 35 and tied for 4th place in the Boys 12 & over, to continue his improved performance in his "rookie" season in competitive golf.