Tyler Shin, a rookie, on the Southern California Junior (JDT) Tour, shot a +5, 36 to tie with Johan Kim, who also shot a 36. Tyler, got off to a good start with making pars on 4 of the first 6 hol's. The rookie, stumbled, coming home, when he posted bogeys on 7, 8 and 9. Tyler, has now shot +7 or better in two event's. SCPGA rules, require that a boy player, post 3 events with a score of +7 or better, within a calendar year, before earning a promotion to the SCPGA Junior Tour.
Tyler, and his sister, Riley, will be taking a month off, while they travel to South Korea, to visit family. Tyler's, friend, Aidan Han, shot a 49 to place tied for 16th. Aidan and his family will also be traveling with Tyler's family.
At the Willowick Spring Event, Reina Tain, shot 79 to grab a tie for 3rd place. Double bogies on one and twelve, prevented Reina, from tying for first place. On a good note, Reina, made back to back birdies on ten and eleven.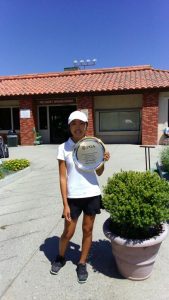 Pictured: Reina Tain with 3rd place trophy
Bryant Hernandez, placed 7th in the Willowick event with a 77.
At Woodley Lakes GC, Bella Yang, shot 82, to finish 5th place, 7 shots off of the winning score of 75. It is note worthy, to mention that Bella, a 12 year old, played with a set of mens clubs for the first time in a tournament. She used her coach's irons after practicing with them for one day, before putting them into play at Woodley Lakes.
Garrick Chiu, shot 78 ant placed tied for 17th at Scholl Canyon GC. Garrick, played reasonably well, by making 8 par's, but could not escape making 4 doubles and 2 triples in his round. Kora Chiu, shot an 82 and finished 4th in the Girls 12-14 Division.
In JDT action at Alhambra GC, Jackie Li, shot a 58 and finished in a tie for 11th place.
On the Toyota Tour, Matt Huo, shot 77-75 (152) and finished in a tie for 10th place. You Seong Choi, finished in a tie for 31st, with 79-80 (159).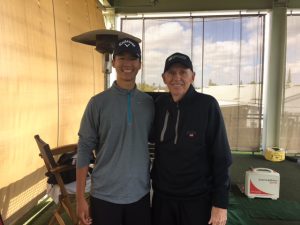 Pictured: Matt Huo and Coach George Pinnell
Irene Park, shot 83-84 (167) to place 33rd. Six double bogies derailed the young player from Rowland Heights, CA. Angela Wu, shot 84-87 (186) to finish 34th.