Amanda Lee, finished in 10th place with score's of 71-76 (147) at the Future Champions Golf Tour, in Las Vegas, NV. The championship was played at Primm Valley, west of Las Vegas. Amanda shot a solid 71 in the first round that had her in 4th place going into the final round. Amanda's, first day consisted of an opening birdie, before she stumbled with a double bogey 6 on the 5th hole. A bogey on the 8th hole, gave Amanda, a front nine 38. Amanda, made adjustment's on her back side and went -2 under par on 9 thru 18. Her 33 on the back nine helped her score a par 71, for 4th place.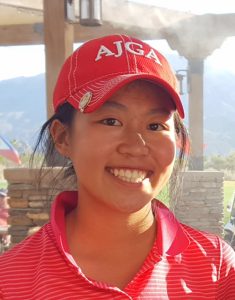 Amanda Lee
Amanda, got off to a bad start on the final day, with bogey's on holes 1, 2 and 3. Pars on 4-7 was followed by a birdie on 8 and a bogey on the ninth hole to close out her front nine with a 39. Amanda, birdied the 10th hole, made bogeys on 13 and 14, a double on 15 followed by a birdie on 16 to finish with a 37 (76). The young player from Chatsworth, CA, was not happy with her "roller coaster" finish on the final day.
Megan Lee, yes, Amanda's sister, shot 83-78 (161) to tie for 36th place with Catherine (Tianhong) Yu, who shot 84-77 (161). Catherine, will play for Carnegie Mellon in Pittsburgh, in the fall.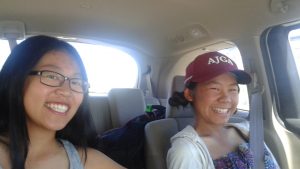 Amanda and Megan Lee
Meanwhile, in Mesa, Arizona, Rose Zhang, a favorite, at the PING Heather Farr Classic, was the recipient of an unwanted bee sting in her practice round on the 6th hole at the Longbow Golf Club in Mesa, Arizona. Rose, with her forefinger, severely swollen, decided to play in the event. Her opening round 77 was a result of the painful, swollen finger. With medication and ice, Rose, was hoping the swelling and pain would subside before the second round. The swelling remained, but Rose, was determined to try and play the second round. As she played the back nine, she decided that "discretion was the better part of valor," so she decided to withdraw, because of the pain from the bee sting.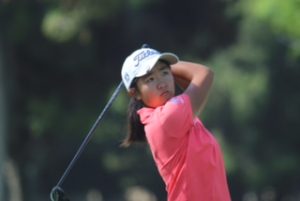 Rose Zhang
Crystal Wang, shot 75-76 (151) and missed the final round cut. This was Crystal's, first event of the year. CW, has committed to play for the University of Illinois in 2018. The junior from Diamond Bar, CA, was the University of Illinois, number one recruit for 2018.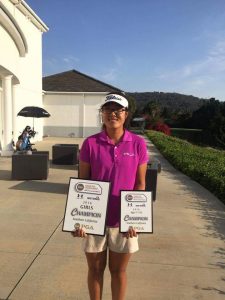 Crystal Wang
In SCPGA action, Reina Tain, tied for 3rd place (a shot out of tying for 1st) in the El Prado Spring Classic at El Prado GC, Chino, CA. Reina, was +1 over par thru 12 hole's but did not finish the way she wanted, when she made 3 consecutive bogies on 13-15. She did par out, on 16, 17 and 18.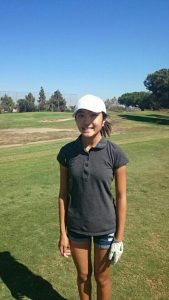 Reina Tain
In the Upland Spring Event, Bryant Hernandez, finished in a tie for 10th place in the Boys 12-14 Division. Bryant, who just turned 11, (moved up to play in 12-14 division) shot 81. Garrick Chiu, shot 90 and finished in 23rd place.
Keisha Lugito, shot an 80 and tied for 1st place in the Girls 15-18 Division. Keisha, has not competed for several month's as she was fighting an illness. She will be playing for Seattle University, this fall with a golf scholarship.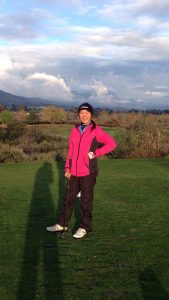 Keisha Lugito
David "SloMo" Kim, shot a 42 and finished in 9th place in Boys JDT 11 & under, action at the Monterey Park GC. Jacki Li, shot a 45 and finished in a tie for 10th place in the JDT Girls 11 & under.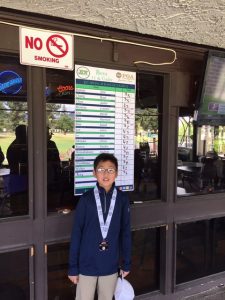 David "SloMo" Kim