Rose Zhang, who will turn 14 on May 24, has been selected to represent the United States in the prestigious 2017 Evian Junior Championship Cup. This prestigious event is a once in a lifetime opportunity for players 14 and younger to play for their country against 15 other countries. The Evian Junior Championship, will be played at the Evian Masters Golf Club, Evian-les-Bains, France, September 19-20, 2017. The Evian Junior Championship, will be the week after The Evian LPGA Championship, a major event for the LPGA.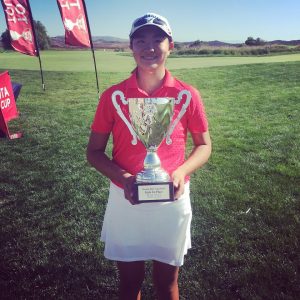 Pictured: Rose Zhang
The Evian Junior Championship Team's consist of 2 girls and 2 boys, who will compete against 15 other countries for the championship cup. The entire 4 person team will be announced soon. Rose's coach, George Pinnell, was contacted by Gwen Checho from the LPGA asking him to notify, Rose, that she had been invited to compete on the 2017 team. "Pinnell said, Rose was just getting to practice when I called her to tell her, that she had been selected. She was excited as she told her father and ask him if she could, say yes, to the invitation."
Rose, is currently, the number one ranked 13 year old (soon to be #1, 14 yr old) and is ranked number 11 for ages 12 to 18 by the Junior Golf Scoreboard Rankings. Rose, since June, 2016, has won the AJGA/CJGT Junior at Yorba Linda, and has had 6 top 5 finishes in 9 event's on the AJGA Tour.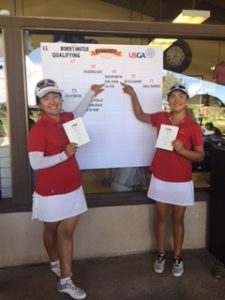 Pictured: Rose Zhang and Anna Dong
Rose and Anna Dong, qualified and will be leaving next week to compete in the U.S. Women's Amateur Four-Ball, at The Dunes Golf & Beach Club, Myrtle Beach, S.C. The Championship will be on May 27-31, 2017.