Tyler Shin, won for the first time in his young career on the Junior Developmental Tour.  Tyler, shot a "career best," 34 (+3) to win at Casta Del Sol, Newport Beach, CA.  The youngster won by 2 shots over Max Atkins.  Tyler, who, according to his coach, George Pinnell, has a tremendous potential, if he can learn to control the tremendous swing speed he possesses.  All young players, especially boys, want to focus on distance more than accuracy.  The result is higher scores and frustration.  Tyler, who just completed eighth grade, has a driver swing speed in excess of 100 mph!  If controlled, combined with a good short game, Tyler will have a nice junior golf career ahead of him. 
---
Aidan Han, shot a 43 to place in a tie for 17th, at Casta Del Sol.
---
Bella Yang, who recently turned 12 and graduated to the Girls 12-14 Division,won the El Prado CC Summer 2 event, with a solid 78 (+5).  Bella, won her event in a card off.  She finished strong, by going birdie, birdie on 17 and 18 to post her first win in the Girls 12-14 Division.   Bella, who is transitioning from playing 9 hole's in the 9-11 Division, now has to play 18 hole's.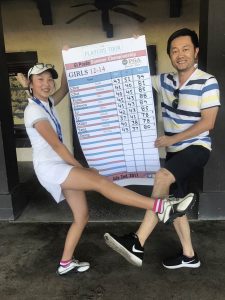 Bella Yang and her father 
Bella, who according to Pinnell, "has a bright future ahead of her and is working hard on her game. She is learning the importance of developing a "good" short game to go along with her ball striking.  "Bella's, ball striking is improving weekly," Pinnell said. 
---
Garrick Chiu, finished in a tie for 5th place at the Newport Beach Summer event.  Garrick, shot a "good" 64 (+5).  Garrick, who has always had potential, has "struggled to perform well in tournament conditions," according to his coach,George Pinnell.  Garrick, broke out of his slump at the Recreation Park Summer Tournament, when he finished in a tie for 10th place with an 80 (+8).  This was a big moment for the youngster from Arcadia, CA. 
Kora Chiu, yes, Garrick's sister, did not fare as well. Kora shot an 80 (+21) and finished in 10th place. 
---
Congratulations to Tyler (Buford), Bella and Garrick, for their good play this week.