Information obtained and credited to AJGA via www.ajga.org
BRASELTON, Ga. — The first 36 players are set for the 28th annual Wyndham Cup, which will be contested at Mayacama Golf Club, July 4-7. The East Team includes 10 Wyndham Cup veterans and players from six states, while the West Team will try to defend its title with six veterans and players from three states. The teams this year feature 29 Rolex Junior All-Americans and 31 AJGA champions who have combined for 61 wins.
Since 1990, Wyndham Cup has brought together 40 of the country's top junior golfers in an East-versus-West team match play tournament. With the dividing line now running from the eastern border of Texas and extending northward through the eastern border of North Dakota, 10 boys and 10 girls from each side are selected based on the AJGA Rankings, which reward top finishes in national junior golf tournaments.
The Wyndham Cup visits California for the first time since 2013 over Fourth of July weekend. Mayacama Golf Club, set in the hillsides of Sonoma Wine Country and designed by Jack Nicklaus in 2001, will host the AJGA for the first time since 2014. In 2016, the West Team claimed the Cup for the fourth straight year with a 26-24 win at The Stanwich Club in Greenwich, Connecticut, improving its all-time record to 15-9-3. It was the sixth time in the last seven years that the Wyndham Cup was decided by five points or less.
Alumni of the Wyndham Cup West Team include Rickie Fowler, Hunter Mahan, Ryan Moore, Jordan Spieth, Tiger Woods, Amanda Blumenherst, Kellee Booth, Paula Creamer, Alison Lee and Grace Park. For the East Team, former players include Matt Kuchar, Patrick Reed, Patrick Rodgers, Webb Simpson, Justin Thomas, Bubba Watson, Beth Bauer, Cristie Kerr, Brittany Lincicome, In-Bee Park, Morgan Pressel and Lexi Thompson.
The Wyndham Cup features five formats: four-ball, mixed four-ball, foursomes, mixed foursomes and singles. A total of 50 points is available, and every player competes in singles matches and three of the four other formats.
The Opening Ceremonies and Welcome Dinner will be on Tuesday, July 4, while morning and afternoon matches will be played July 5-6. The competition will conclude with 20 singles matches on Friday, July 7.
Since 2011, Wyndham Worldwide has supported the Wyndham Cup, and in 2014, Wyndham Worldwide announced it would endow an Achieving Competitive Excellence (ACE) Grant to support talented junior golfers who lack the financial resources to play a national junior golf schedule. Wyndham Worldwide is also the Official Hotel Partner of the AJGA.
About Wyndham Worldwide
Wyndham Worldwide (NYSE: WYN) is one of the largest global hospitality companies, providing travelers with access to a collection of trusted hospitality brands in hotels, vacation ownership, and unique accommodations including vacation exchange, holiday parks, and managed home rentals. With a collective inventory of nearly 130,000 places to stay across more than 110 countries on six continents, Wyndham Worldwide and its 38,000 associates welcomes people to experience travel the way they want. This is enhanced by Wyndham Rewards®, the Company's re-imagined guest loyalty program across its businesses, which is making it simpler for members to earn more rewards and redeem their points faster. For more information, please visit www.wyndhamworldwide.com.
About AJGA
The American Junior Golf Association is a 501(c)(3) nonprofit organization dedicated to the overall growth and development of young men and women who aspire to earn college golf scholarships through competitive junior golf. The AJGA provides valuable exposure for college golf scholarships, and has an annual junior membership (boys and girls, ages 12-19) of more than 6,600 members from 50 states and 55 foreign countries. Through initiatives like the Achieving Competitive Excellence (ACE) Grant, a financial assistance program, and Leadership Links, a service-oriented platform that teaches juniors charitable-giving skills, the AJGA fosters the growth of golf's next generation.
TaylorMade-adidas Golf became the AJGA's National Sponsor in 2016 after more than 25 years of support. Rolex, which is in its fourth decade of AJGA sponsorship, became the inaugural AJGA Premier Partner in 2004. In 2017, adidas joined the AJGA as a Premier Partner, serving as the Official Apparel and Footwear of the AJGA.
AJGA alumni have risen to the top of amateur, collegiate and professional golf. Former AJGA juniors have compiled more than 830 victories on the PGA and LPGA Tours. AJGA alumni include Tiger Woods, Phil Mickelson, Jordan Spieth, Rickie Fowler, Bubba Watson, Webb Simpson, Sergio Garcia, Hunter Mahan, Dustin Johnson, Patrick Reed, Zach Johnson, Justin Thomas, Stacy Lewis, Ariya Jutanugarn, Alison Lee, Lexi Thompson, Inbee Park, Paula Creamer, Brittany Lincicome, Cristie Kerr and Morgan Pressel.
Wyndham Cup Field Announced
---
EAST TEAM ROSTER
Garrett Barber, Stuart, Florida (2018)
Jennifer Chang, Cary, North Carolina (2018)
Canon Claycomb, Bowling Green, Kentucky (2020)
Youngin Chun, Gainesville, Florida (2018)
Eugene Hong, Orlando, Florida (2018)
Emily Hawkins, Lexington, North Carolina (2018)
Won Jun Lee, Wesley Chapel, Florida (2017)
Rachel Heck, Memphis, Tennessee (2020)
John Pak, Scotch Plains, New Jersey (2017)
Aubree Jones, Covington, Tennessee (2017)
Bryan Wiyang Teoh, Jupiter, Florida (2018)
Gina Kim, Chapel Hill, North Carolina (2018)
Khavish Varadan, Wesley Chapel, Florida (2019)
Emilia Migliaccio, Cary, North Carolina (2017)
Karl Vilips, Wesley Chapel, Florida (2020)
Alexa Pano, Lake Worth, Florida (2022)
Wocheng (Aden) Ye, Lake Mary, Florida (2018)
Erica Shepherd, Greenwood, Indiana (2019)
Prescott Butler, Old Westbury, New York (2018)
Lei (Angelina) Ye, Bradenton, Florida (2019)
---
WEST TEAM ROSTER
Ricky Castillo, Yorba Linda, California (2019)
Alyaa Abdulghany, Newport Beach, California (2017)
Ryan Grider, Lewisville, Texas (2017)
Hailey Jones, Dallas, Texas (2019)
Cole Hammer, Houston, Texas (2018)
Lucy Li, Redwood Shores, California (2020)
Turner Hosch, Dallas, Texas (2019)
Kaitlyn Papp, Austin, Texas (2017)
Kaiwen Liu, San Diego, California (2017)
Brooke Seay, Rancho Santa Fe, California (2019)
Sean Maruyama, Encino, California (2018)
Yujeong Son, Norman, Oklahoma (2019)
Clay Seeber, Newport Beach, California (2019)
Paphangkorn Tavatanakit, Van Nuys, California (2017)
Travis Vick, Houston, Texas (2019)
Nicole Whiston, San Diego, California (2019)
Shuai Ming Wong, The Woodlands, Texas (2018)
Rose Zhang, Irvine, California (2021)
Joe Highsmith, Lakewood, Washington (2018)
Calista Reyes, San Diego, California (2018)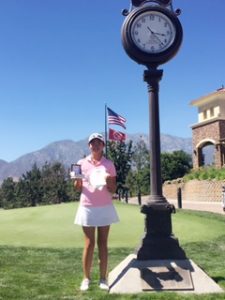 Rose Zhang pictured