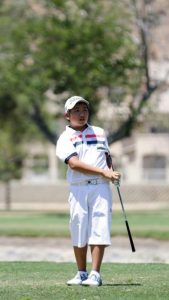 You Seong Choi, won the Boy's 12-14 Division, by firing 69-68 (137) to win the PT 2-Day @ Arrowood, by 3 shot's over Ruiheng Xiong's 68-72 (140). You Seong, shot even par on the front nine and then went -2 on the back for his 69. In his second round, You Seong, went -3 under par on 9-18. He had 2 bogie's to go along with his 5 birdie's for his 68 and -5 under par 137, 2 day total.
Bill Sun and Andy Yu, tied for 3rd place with a +2, 38, in the El Prado Chino Creek, on September 16, 2017. Bill and Andy compete in the Boys 9-11 Division. Bill had a birdie, one bogey and a dreaded double bogey, to post his 2 over par 38. A pretty solid performance for the up and coming junior. Andy, posted a birdie, 3 bogies and 5 par's for his 38. It should be noted that Andy, finished STRONG, by making a birdie on the final hole to tie for third place. It is always a good sign, when a junior can "FINISH" strong, in an event.
In the Girls 12-14 Division, Bella Yang, shot a 78 and finished in 6th place. Bella was 2 over par thru 14 hole's, but made bogies on 3 of her final 4 hole's. Bella has been working hard to NOT think about her score or result's during the round. She is trying to focus on the "the shot facing her," rather than thinking , "I have to make a par on this hole." Junior's should focus more on the "PROCESS" rather than the result's. If a player will execute well, the result's will be taken care of, without all of the stress involved in worrying about what you MIGHT do. Bella, has made improvement's and is close to "making her move" to the next level. Time and process will work, if done properly.
On the Toyota Tour Cup, Reina Tain, shot 75-79-74 (228) to finish in a tie for 18th place. Reina, is preparing her game to play more on the Toyota Tour and AJGA in 2018.
Bill Sun, played in the 4th Annual Joe Robin event at Jurupa Hills Country Club. Bill, shot a 42 and finished tied for 2nd.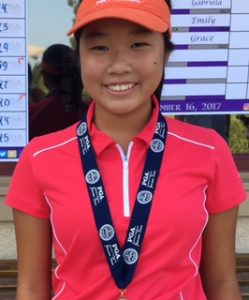 In JDT action at Alhambra GC, Maddy Kwei, won the JDT Girls 12 & Over Division, with a good score of +3 over par 39, in the nine hole event. Maddy, a freshman, is working hard to qualify for the Toyota Tour and AJGA Tour in 2018.
Rose Zhang, is in Evian, France, representing the United State's in the Evian Champion Junior Cup on September 19-20, 2017. The event will be hosting the best international players, aged 14 years and under. Twenty teams of four players, two girls and two boys, representing 20 nations, are expected on the Major course of the Evian Resort Golf Club.
The tournament will be decided by stroke play over 2 rounds of 18 holes each, in accordance with the Rules of Golf as approved by R&A Rules Limited and the local Rules approved by the Championship Committee.
In the event of a tie after 2 round (boys and girls categories), the winner will be decided by a sudden death play-off which will take place as soon as the last competitors have completed their final round. Ties for other placing will be decided by counting back over the final 18, 9,6,3 holes and last hole and then "hole by hole."
A Nation's Cup will be played within the tournament. The three best gross scores of four will count each day. The total aggregate of the 6 scores over the 2 days will constitute the team's score. In the event of a tie, the lowest total of the 2 non-counting scores will win. If there is a further tie, the best aggregate of the lowest score on each day will win. If there is a further tie, the best aggregate of the second best score will win.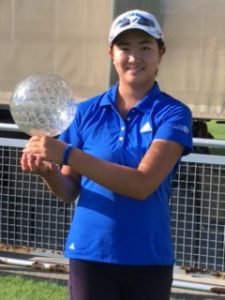 Good luck to Rose Zhang and the United State's Team!