Rose Zhang, fired a 71 (-1) while Jackson Van Paris, posted a solid 69 (-3) to lead the USA to a 13 stroke lead over Japan and France. The USA Team, is -4 under par, while Japan and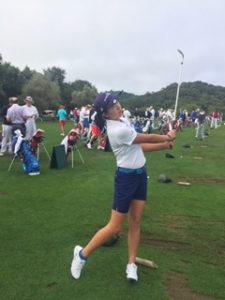 France are +9.
The USA Team, is comprised of Rose Zhang, Alexa Pano, Eli Tran and Jackson Van Paris. Pano shot an even Par 72, while Tran, posted a 77.
Zhang, was not happy with her ball flight during her practice round's so she called her coach, in the U.S., to determine the possible cause. It was determined that her setup alignment was off, a little, causing her to compensate and push her shot's a little to the right.
Zhang, got her ball flight issue under better control, but told Pinnell, "I had 6, three putt's. I kept "slamming" everything past the hole!" She had 5 birdies, but those were offset by the 4 bogie's, caused by the 3 putt's. Pinnell, quipped, "imagine what you would have shot without the 3 jack's!"
Team USA, has a commanding lead going into the final round. "It is their's to win," Pinnell, said, and, "Rose is in first place with a shot at winning the Girl's Championship, with a good round tomorrow."
Countries competing and their score after the first round are:
Rank
1 United State's -4
T2 Japan +9
T2 France +9
T4 Portugal +10
5 Netherlands +11
6 China +13
7 Italy +15
T8 Spain +17
T8 Czech Republic +17
10 Finland +21
T11 France 1 +22
T11 Mexico +22
T11 Denmark +22
T14 Belgium +24
T14 Slovenia +24
16 Switzerland +30
17 Slovakia +37
Information is taken from FFGOLF.org. We are only as accurate as they are in covering the event.