Winston "W" Thai, tied for first place in the JDT Fall Championship at Arcadia GC. Winston, shot a +3 over par 30, on the par 27 layout, following a controversial ruling. Winston, lost in a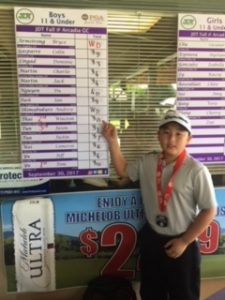 "card off" to Tom Yu. The controversy started when Winston was preparing to pitch his ball from off of the green on his 2nd shot to the par 3, fourth hole. Winston's ball "hit" another player's ball that was on the green. The young group of player's were unsure of what the ruling is under these circumstance's. Unfortunately, another player's parent told the boy's, it was a two stroke penalty. The boy's, not knowing the rule, accepted the explanation by the parent (Spectator's and parent's are Not to have any conversation with the player's during competition). USGA Rule 19-5a Ball in Motion Deflected or Stopped state's: "If a player's ball in motion after a stroke is deflected or stopped by a ball in play and at rest, the player must play his ball as it lies. In match play, there is no penalty. In stroke play, there is no penalty, unless both balls lay on the putting green prior to the stroke, in which case the player incurs a penalty of two strokes."
It is unfortunate, for Winston, because there should not have been a penalty assessed to him in that situation. Winston should have won the event with his score of 28, instead of his tie for first with the 2 stroke penalty.
Winston, got off to a hot start with a birdie on the opening hole but then made bogies on 2 and 3. Then the unfortunate ruling, gave him a double bogey on hole 4. Winston, went on to make 5 par's in a row, to finish strong in this event.
Winston's coach, George Pinnell, explained that he should have told what happened on hole 4, to the SCPGA Officials at the scoring table, and they would have explained that no penalty should have been assessed under those circumstance's.
Steve Jing Yang Zhang, shot a 37 and placed tied for 13th.
Bella Yang, continue's her improved performance with a solid tie for 2nd place (1 shot out of first place) at the Los Amigos Fall Championship, at Los Amigos GC. Bella shot a 76 on the par 71 golf course and played the front nine in +2 over par with a birdie 3 on the sixth hole. Bella shot +3 over par on her back nine, but she finished strong, by going only +1, in her final 6 hole's. According to her coach, George Pinnell, "finishing strong, is a major indicator of a young player's growth and ability to handle pressure in the finishing 5 or 6 hole's of a tournament. Bella, is beginning to show growth and maturity in her ability to perform under these condition's."
Kora Chiu, shot 63 on the par 54, Heartwell GC Championship. Kora, placed 8th but showed improvement in cutting down her mistake's by not having anything more than a bogey on any hole.
At the Willowick Fall Championship, Kyle Lam finished in a tie for 10th place, with a +7, 78. This was one of Kyle's best performance's in his junior career. Andy Yu, shot a 40, and finished in a tie for 4th, in the Boys 9-11 Division.
Congratulation's to all junior's and their performances this past weekend. Remember, if you have any questions regarding rulings, that occurred during your round, be sure to ask the SCPGA officials, so that you can get the correct ruling.