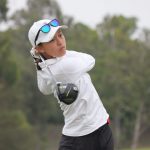 Charissa Shang, an 8th grader from, Calabasas, CA., won her first Toyota Tour Cup Championship at the TTC @ Ojai Valley Inn & Spa, in Ojai, CA. Charissa, won a tight contest by posting 71-74 (145). She won by a shot over Mack Bailey, Castaic, CA., who shot 76-70 (146).
Charissa, hit 73% of her fairway's, but had a difficult with her GIR's with only 38%. The young 8th grader had a respectable 54% scramble percentage (up/down), in her win. Charissa, had her putter working well as she only needed 27 putt's in her first round and 28 in her second and final round. Charissa, felt that she did not drive the ball well in her second round, but was able to keep pace with making putt's for up and down's. A good weekend for Charissa.
In the boy's division, You Seong Choi, Hacienda Heights, Ca., shot 70-71 (141) to finish in 3rd place, 2 shot's off the winning score of 139, by Connor Brown, Los Angeles, CA. Leo Lu, was in 2nd place after the first round but slipped to a tie for 10th place with score's of 69-77 (146).
At the Heartwell fall Challenge, Kyle Lam, Phillips Ranch, CA., shot a +4, 58, to finish in a tie for 7th place. A good showing, for Kyle, who has worked very hard on his game, seeking improvement. In the Girls 15-18 Division, Sarah Taghaboni, Chino Hill's, CA. shot a 66 and finished in 5th place, while her sister, Becca, shot 71 and was 7th.
At General Old Fall Championship, Kyle Lam, shot 84 to finish in a tie for 11th place. In the Boys 9-11 Division, Andy Yu, shot a 43 to finish in a tie for 4th place while, Samson Li, shot 47 and finished in 7th place.
In JDT action, Steve JingYang Zhang, Diamond Bar, CA., finished in a tie for 4th place with a 40.
Congratulations to Charissa Shang, for her first TTC win!