Bella Yang, a 13 year old from Chino Hills, CA., won the Royal Vista Fall Championship, with a 77. Second place went to Azadeh Varnado, Irvine, CA.,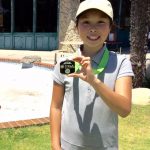 who shot an 81. Bella, started her round with par's on one and two, followed by a pair of bogey's on three and four. A par on five was backed up with a double bogey 5 on the par 3 sixth hole. Another bogey on seven, preceded a good run, on eight through thirteen where she was -2 under par for those 6 holes. On the finishing five hole's she was +3 over. Bella, has been working hard to eliminate the mistake's that keep young player's from improving as quickly as they want. Bella, is learning to manage her game better, by not thinking she has to hit driver on every par 4 or par 5 hole, making better club selection and improving her short game skill's. A big mistake made by young player's, including Bella, is thinking about the result rather than the process and execution of the next shot. Focusing on thinking, "I have to play well today, or, I have to make birdie's to make up for the bogies, I made," is a huge mistake in learning how to manage the game. Bella, is working hard to improve her mental game.
Eric Han, from Walnut, CA, finished in 5th place in the Boys 15-18 Division. Eric, shot a 77. Bill Sun, finished 2nd in the Boys 9-11 Division, with a 42, in the 9 hole event for this age group. Sammy (Samson) Li, finished in 9th place with a 48.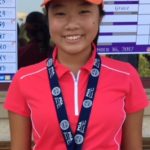 Meanwhile, on the JDT Tour (Junior Development Tour), Maddy Kwei, won the event with a +2 over par 29, on the Heartwell Golf Course. Maddy, made 2 bogies in her first 4 hole's and then played even par with a birdie and a bogey on her finishing 5 hole's. Finishing strong, was a key reason, Maddy was able to win this event. Winston Thai, shot a 41 and finished in 11th place.
Charissa Shang, Calabasas, CA., shot 74-76 (150) to finish in 10th place on the Toyota Tour Championship at River Ridge GC. Charissa, was in 2nd place after the first round with her 74. In the second round, Charissa's, hit only 6 of 13 fairway's and made only 1 of 5 up and down's. the up and coming 8th grader is working to improve her course management and mental game that will allow her to make fewer mistake's, under pressure. In the Boys Division, You Seong Choi, shot 74-76 (150) to finish in a tie for 30th. Leo Lu, shot 80-72 (152) and was in a tie for 43rd place. Leo, was able to cut down the mistake's in the 2nd round by making only 3 bogies to go along with his 3 birdies, to shoot an even par 72. In his first round, he had 7 bogies, a double bogey and 1 birdie for his 80. A big turnaround.
At the El Prado Fall Championship on the Butterfield Course, Kyle Lam, Phillips Ranch, CA., shot an 87 and finished in a tie for 13th place. Sammy Li, Diamond Bar, CA., shot a 41 in the Boys 9-11 Division, and finished in a tie for 6th place.
Bella Yang, continued her strong showing with a 2nd place in the Girls 12-14 Division, in the Jurupa Hills Fall Championship. Bella, shot an 80, 2 shot's behind, Chaemin Kim, Costa Mesa, CA., who shot a 78. Bella, made too many mistake's, 9 bogies and a double, that kept her from winning the championship. She did post an eagle 2, on the par 4, 12th hole. Andy Yu, who is going through a major swing change, shot a 41 in the Boys 9-11 Division, and finished in a tie for 2nd place.
Congratulations to everyone who is chasing their dream!!