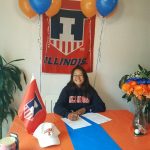 Crystal Wang, a senior at Diamond Bar High School, Diamond Bar, California, signed a National Letter of Intent with the University of Illinois to play golf for the fighting Illini. Crystal worked hard during her junior career, with the goal of earning a scholarship to a division 1 university. Crystal's junior career, fostered by the support of her mother, Jean, earned her the honor of being offered a full scholarship at the University of Illinois. Illinois is in the Big Ten Conference, a premier conference in college athletics and academic's. Crystal will enter Illinois in the fall semester of 2018.
9 year old, Bridget Chantharath, shot a 41 and placed 3rd in the Casta del Sol Fall Championship. Bridget, is a young player, that is working hard on her game with George Pinnell and physical trainer, Josh Loyo at ForePerformance, in Diamond Bar, CA.
Bella Yang, finished in the top 10 (9th) at the Los Amigos Fall Championship in the Girls 12-14 Division. Bella, shot an 85, and struggled with a double bogey on the 5th hole, followed by a triple on the 7th and 18th hole. Unfortunately, this was, Bella's, first time playing this course. "It is difficult to play competitive golf on a course that you have never played on," according to George Pinnell. Pinnell, went on to say, "when you have never played a course, you have no idea as to where to place the ball on tee shot's and you are unaware of hazard's and trouble spot's that are not visible. It is almost a "must", to play a course prior to competing on it." Unfortunately, because of time constraint's and schedule's, parent's cannot provide this added preparation to their daughter or son.
Kyle Lam, also struggled with a 92, that put him into 19th place. It is also suspected that this was Kyle's, first time playing Los Amigos GC.
At the JDT Fall Championship @ Whittier Golf Club, Steve (Jing Yang) Zhang, shot a 43 and finished tied for 7th.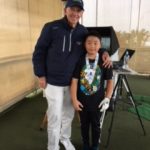 Winston Thai, finished in a tie for 3rd place, earning a Medal at the JDT Fall Championship @ Manhattan Beach GC. Winston fired a 33 (+6) in the 9 hole JDT event. His brother Wilson (W2) played in his first competitive event and shot a 44 to finish in 14th place.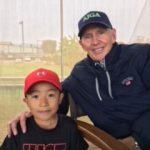 Congratulations to Crystal for her hard work and for setting an example for other young player's working toward earning a college scholarship.