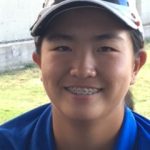 Rose Zhang, 14, was presented her Rolex First Team All-America Award at last night's Rolex All-America Awards Banquet. She will tee it up today in the prestigious Rolex Tournament of Champions being contested at PGA National Resort & Spa, Palm Beach Gardens, FL. The Rolex Tournament of Champions is a 72 hole event that put's the top players in the world competing against each other. As a 13 year old, Rose earned Honorable Mention on the Rolex All-America Team. In 2017, she moved from Honorable Mention to First Team All-America Honors! Congratulations to Rose and we wish her well this week.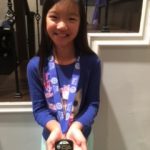 Bridget Chantharath won the Dad Miller Fall Championship with a +6, 41, in the Girls 9-11 Division. Bridget played well with 5 pars and 2 bogies, but had difficulties on hole's 2 and 8 where she made double bogies. Bridget works with George Pinnell, her golf coach/instructor and Josh Loyo, her physical trainer at PerformanceFitness in Diamond Bar, California.
Bella Yang, 13, posted a 77 and grabbed 2nd place at the Menifee Lakes Championship. Bella played her front 9 in even par but failed to "finish strong" on her back 9 holes. Bella made a birdie 2 pars and 6 bogies on her final 9. The youngster is growing her game and working hard to understand the importance of hydrating and nourishing herself while competing. Bella is working to better understand the game and how important it is to "stay in the moment" while competing. A player does not have to focus for 4 hours but it is important that they train themselves to be able to focus for about a minute on each shot. Planning, preparing and then executing the shot. She too, works with Pinnell and Loyo.
Kyle Lam finished in a tie for 19th with a 90 in the Boys 15-18 Division.
Bella Yang, shot a 79 and placed 3rd in the El Prado Fall Championship at El Prado Golf Club in Chino, California. Bella played well with a 1 over par 36 on the front 9, but made 2 birdies 4 bogies and a double bogey to post her 79.
Kyle Lam, shot 80 and placed 10th in the Boys 12-18 Division.
On the Southern California PGA Junior Developmental Tour, Winston Thai, continued his solid play with a tie for 3rd place in the Boys JDT 11 & Under Division. At the JDT event at David L Golf Baker Course, Maddy Kwei, shot a 38 and placed 2nd. In the Boys JDT 12 & Over Division, Steve (JingYang) Zhang, shot a 39 and finished in 5th place.
Congratulations to Rose Zhang, and all of the junior players who are striving to be the best that they can be.