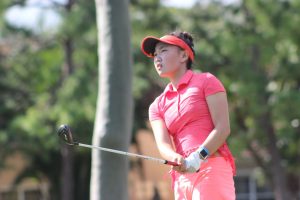 Lucy Li, sophomore, from Redwood Shores, California, dominated the Girl's Rolex Tournament of Champions by shooting an amazing -13 under par on the difficult Fazio Course at PGA National Resort & Spa in Palm Beach Gardens, Florida. Lucy fired round's of 71-62-73-69 (275) to win by 5 shot's over Aneka Seumanutafa's, 73-71-67-69 (280). Aneka is from Emmitsburg, Md. and is junior in high school.
Rose Zhang, a freshman, from Irvine, California, got off to a slow start on the first 2 round's of the season ending, 72 hole event. Rose shot a pair of pedestrian, 75's that put her in a tie for 34th after the 1st and second round. The Rolex First Team All-American, improved her score by a shot, posting a 74 in the 3rd round and moved up to 24th place. Not satisfied with her performance, Rose knew she had to grind it out in the 4th and final round to advance on the leader board. Disappoint, she did not. Rose, fired a -2 under par 70 that consisted of 3 birdies and a lone bogey to move up into a tie for 14th place in the prestigious event.
Rose did not have her "A game", this week, but being a competitor, and knowing how to make a score with something less than her best, she was able to recover and make a great showing in this showcase event.
On Sunday, November 19, 2017, The AJGA conducted the Rolex Junior All-America Awards Banquet. Rose was proud to have earned and be awarded a First Team Birth in 2017. As an 8th grader, Rose was named to the Rolex All-America Honorable Mention Team.
Congratulations to Lucy Li for her win and to Rose Zhang for her tenaciousness in climbing the leader board to a solid T14 finish.