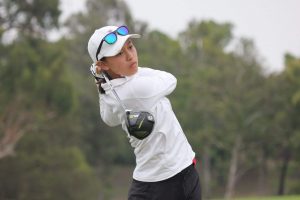 Charissa Shang, an 8th grader (2022), won the TaylorMade Championship at River Ridge Golf Club in Victoria lakes. Charissa, shot 75-74 (149) to tie with Annabella Mascot's (2019), 73-76 (149). Charissa and Annabelle, were tied going into the 18th hole. Charissa made a "clutch" 10′ putt on 18. Annabella, made her 5′ birdie putt to force the Championship into a playoff. Both player's made bogey on the first playoff hole, but Charissa, on the second playoff hole, hit her shot 12′ from the pin, and two putted to win the event, after Annabella made a bogey.
Charissa, hit 8 GIR (44%) and 13 GIR (72%). A key to her victory, was her ability to get "up and down" when she missed a green. Charissa made 5 of 10 "up and down's" (50%), in the first round and made 3 of 5 "up and down's" (60%), in her second round. Charissa's coach, George Pinnell, said, "Charissa is very capable of making birdies, and that is evident by the 7 she made in the 36 hole event over the weekend. It is important to her growth, for her to be able to clean up her mistake's that resulted in 10 bogies and a double bogey. Charissa, is committed and as she get's more experience in course and game management, she will make the necessary adjustment's to minimize her mistake's. It is a process, and Charissa has a bright future."
In the Fall Toyota Tour Fall Qualifying School at Menifee Lakes GC, Kendra Lee, a sophomore at Pacific Academy, Irvine, CA., shot 77-78 (155) and tied for 9th place in the field of 49.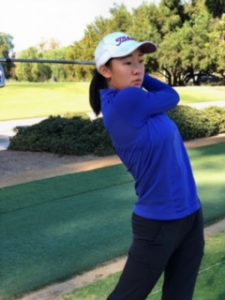 Kendra is in the process of making major swing change's with her new coach. Freshman, Nicole Zhang, shot 76-80 (156) to finish in 13th place, a shot behind Kendra. Kendra and Nicole are working hard to put "more structure" into their golf swing that will result in better control of their ball flight. "Through this process, they will be able play with more confidence and produce better scoring with a more repeatable, stable golf swing," according to their coach, George Pinnell.
Congratulation's to Charissa for her playoff win and to the improvement that Nicole and Kendra are making.