Rose Zhang, fired an impressive 69 in the final round of the Buick Shanshan Feng Girls Invitational, played at TPC Valencia, Valencia, CA, February 9-11, 2018, to finish in a tie for 5th place.  The 14 year old from, Irvine, CA., shot 73-75-69 (217).  The event, an invitational, featured some of the top player's in the world.  Sadie Englemann, Austin, Texas, won her first invitational, with score's of 71-71-69 (211).
Rose, got off to a pedestrian start with her opening 73, in the first 18 of 36 hole's played on the first day.  Rose, made bogey's on 2, 5 and 5 while making birdies on 7 and 14.  This was not the start, she was counting on, but it kept her in a pretty good position, going into her 2nd round.  Rose, was cruising comfortably in 3rd place when she stumbled on the 403 yard 10th hole with a triple bogey 7, followed by a bogey on 11, that put her well back in the pack.  Fighting back, the 14 year old made a birdie on 12 that moved her up in the standing's.  Play was haulted by darkness, so player's were required to come back, early on Sunday morning to finish their 2nd round.
Rose, started her final round on hole 4 where she got off to a par, par, birdie, par, par birdie, -2 under, start in her first 6 hole's.  Rose, made birdie on the par 3, 11th but made bogey on the 13.  she finished the back side with a birdie on 17 and a bogey on 18.  As she made the turn to her remaining 3 hole's, she knew she had to make a move to finish in the top 5.  As planned, RZ, made par's on 1 and 2 and finished strong, with a birdie on her finishing 3rd hole for a hard fought round of 69.  Rose was happy with her final round performance with her 5 birdie's.
Rose Zhang, continued her string to over 104 week's of being ranked the #1 player in the 2021 graduating class.  She is ranked #4 in the Junior Golf Scoreboard Ranking, #7 in the GolfWeek Sagarin Ranking's, and #9 in the Rolex Ranking's (Junior Golf Scoreboard, GolfWeek Sagarin and Rolex are the ranking's for all girls, age 12-18).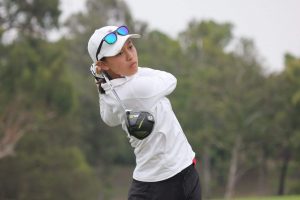 On the Toyoto Tour Cup, Charissa Shang, had a strong showing by finishing in second place at the TOC @ Olivas Links, Ventura, CA.  Charissa, an 8th grader (2022 graduate), shot 70-71 (141) to finish behind, Therese Warner, a 2019 graduate, from Kennewick, WA.  Therese, shot 67-69 (136).  Charissa had a solid weekend with her ball striking and short game.  She hit 82% of her fairway's, 78% of her green's and a pretty good 53.33% scrambling percentage.  Charissa, had 7 birdies and only 4 bogies in the 36 hole, 2 day event.  The only glaring mistake was a bogey on the par 5, 4th hole.  The 8th grader, got the 2018 season off to a good start, one would think.
Reina Tain, a sophomore, from Torrance, CA., finished in a tie for 14th place with round's of 76-80 (156).  Reina, who is being more aggressive with her playing schedule in 2018, got off to a pretty good start.  She made 3 birdies, but stumbled a bit by making 2 double's, a triple and a bogey on a par 5 hole.  Overall, she played pretty well and will work hard to minimize her mistake's, knowing that she will lower her score by being more consistent.
In the Toyoto Tour Cup Qualifying School, played at Menifee Lakes CC, Kendra Lee, a sophomore, shot 84-77 (161) to finish in a tie for 14.  Kendra, is currently undergoing, a complete rebuilding of her swing with her coach, George Pinnell.  Pinnell, said, "it is amazing how quickly, Kendra, has been able to get her club at the top, in a better position, more on plane from a super laid off position.  Now, she has to keep working on it to get the timing better, to produce more consistent shot's from her better position's."  Kendra, has a 4.88 GPA, at Pacific Academy, in Irvine, CA.  A difficult task to study 6-7 hour's daily AND work on her golf game.  A credit to the youngster's determination.
Congratulation's to Rose, Charissa, Reina and Kendra, for their performance's in the kick-off of the 2018 season.