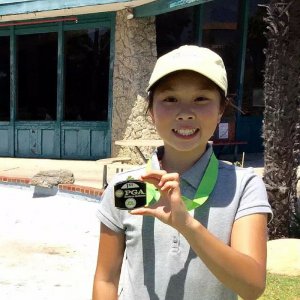 Bella Yang, 13, tied for 2nd place at the SCPGA Junior Tour event played at Royal Vista GC, in Rowland Heights, CA.  Bella, shot a 79, that got off to a difficult start with a par on the opening hole followed by 3 bogies on 2, 3 and 4. She made birdie on the par 3, 6th hole but stumbled badly with a triple bogey 7 on the par 4, eighth hole.  Bella, fought to make a birdie on the 9th hole to close out her opening 9 with a disappointing +4 over 40.  She settled down and played -1 under par on hole's 9 thru 17, but ended the round with a quadruple bogey 8 on the par 3, 18th hole.  Bella's coach, George Pinnell, said, "the mistake's that Bella, made in this event, is part of the process of getting better.  Every player that has ever played the game of golf and reached to the top of the game, has failed before they achieved their success."
"It is a teachable moment", Pinnell said.  He went on to say, "if Bella would have posted a bogey on hole 8 and a bogey on 18, she would have won the event by 4 shot's!  Every young player, experience's unforced error's, and how they respond, will help determine their future success in this game."
Madeleine Kwei, shot a 92 and finished in 18th place.  Bridget Chantharath, shot a 50 and finished in a tie for 6th place in the Girls 9-11 Division.
Charissa Shang, shot 85-76 (161) at the Toyota Tour Invitational @ Oak Valley.  Charissa, finished in 17th place.  The 8th grader from, Calabasas, CA, was not pleased with her weekend showing.  "Part of the process of getting better," Pinnell, re-iterated.  Nodoka Honda, shot 80-84 (164) and placed in a tie for 19th.  Nodoka will be starting to work with Pinnell, this week.
All in all, it was a weekend end of up and down's and hopefully, the young junior's will learn and grow from the mistake's and success's they experienced.